5 Extremely Cozy Winter Shoes You Never Want to Take Off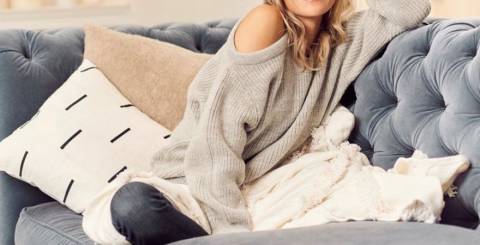 https://www.instagram.com/uncommonjameshome/
I think we call can agree that there is nothing – and I mean nothing worse than walking in the extreme cold. As the temperature gets cold, I want to make sure your feet stay warm! I think everyone's ideal winter shoe can be described as cozy and comfortable yet fashionable but it's hard to pick a place to start because there are so many options out there from comfortable ankle boots to extreme cold weather boots. Sound familiar? Well, you have come to the right place. Keep reading to see the best winter walking shoes. These are 5 extremely cozy shoes and they're so cute you're never going to want to take them off
Over-The-Knee Boots
(Image source: Instagram)
Looking for a shoe that can be worn all winter and makes a bold statement? This one's for you. The best part about this type of shoe is that there are so many ways to wear them. You can dress them down by wearing them over jeans or leggings, wear them to a casual daytime event and then dress them up at night with a mini skirt or dress. These can be found in leather, suede, animal print, with a heel, without a heel, black, they even come in neon colors… you name it, there's a design out there. Whichever pair you choose you're going to look great, and your cold legs will thank you, too!
Ankle Booties
(Image source: Instagram)
I purchased a pair of ankle booties after a long hunt for the perfect pair. The description of the ones I got says you can "wear with anything, wear with everything" and let me tell you they seriously weren't kidding! We all know how versatile an ankle bootie is, we've all had them season after season and I'm willing to bet that trend is not going anywhere anytime soon. Choose a heeled pair to give a great height boost or a flat pair that can easily be transformed from a 9-5 wok day to date night. I know it can be overwhelming because of the hundreds of options out there, but this is a good place to start.
Platform Shoes
(Image source: Instagram)
As a short girl, I love any shoe that is going to give me a little height. Well, good news for us shorties – the platform shoe is appropriate again. Back in the 1970s, this shoe was seen on girls everywhere with their bell-bottom jeans. Soon enough, this look faded out but as with every fashion trend we see it begin to cycle back in. While it might go away and not be back for several seasons it's here for now and I couldn't be happier about it. My favorite style of these shoes is platform sneakers. I love being comfortable and, on the weekends, when I have to run errands but it's too chilly to dress cute, I throw them on with leggings and puffer coats. They surely do stand tall over my ordinary winter shoes!
Combat Boots
(Image source: Instagram)
Since the combat boot trend has been around for a few years now, there's no telling when it will end. The most popular way to wear combat boots is with skinny jeans. Keep your feet even cozier by adding a pair of cute thick socks and roll your jeans up so you can see them sticking out. Your feet are certain to stay warm and you'll look right on-trend. One of my favorite ways I've seen these styled is with dresses. You don't always have to wear heels with dresses to make yourself look put together. Next time you're going to lunch with your girlfriends… wear your combat boots with a casual dress and tights but don't forget your teddy coat. You'll be the most stylish one in the room.
Snow Boots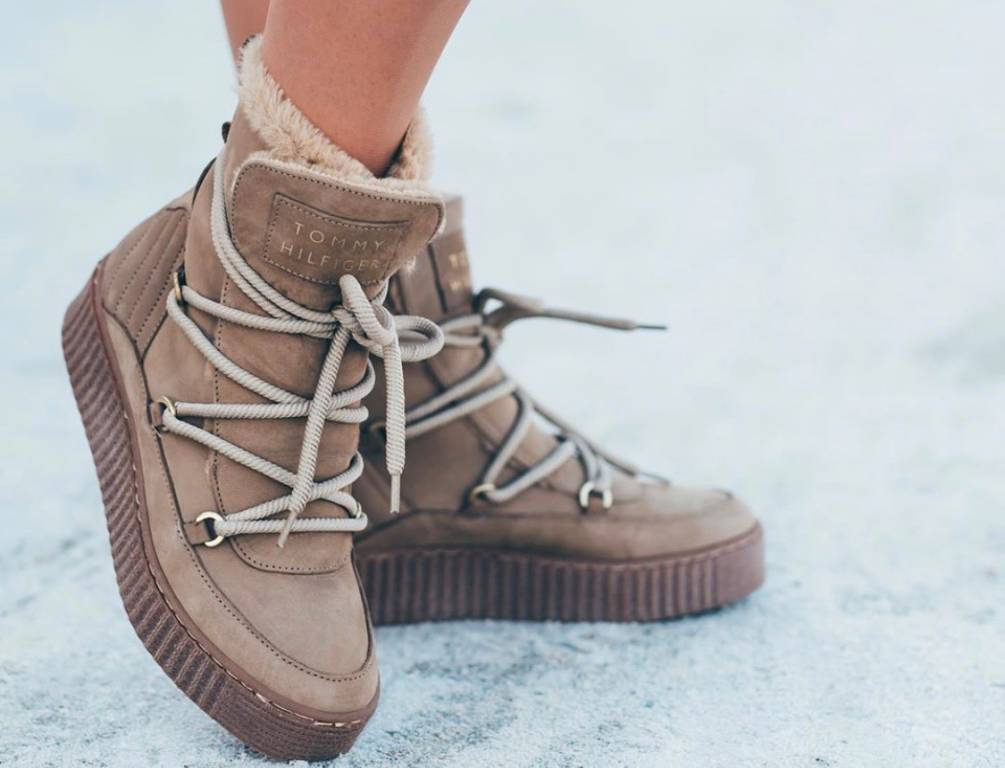 (Image source: Instagram)
Thinking of going skiing this winter?  You're going to need a nice pair of snow boots. The good news is just because these are technical/necessary shoes doesn't mean they can't be fashionable. Personally, I love a brown/caramel snow boot. Pairing a brown boot with an all-white outfit looks so chic and luxe to me. And honestly, the more fur the better! If you're going to spend all day out in the freezing cold, snowy weather – you might as well look cute while doing it!
The second that it gets cold outside I begin my hunt for the perfect winter shoes. There are so many options out there. Use this as a guideline and pick a pair that reflects your style. Any pair you pick from this list are on trend and they're sure to keep you warm! No more excuses that you don't know where to start – the works been done for you!!
Happy Shopping!!