How to Choose a Jogging Stroller?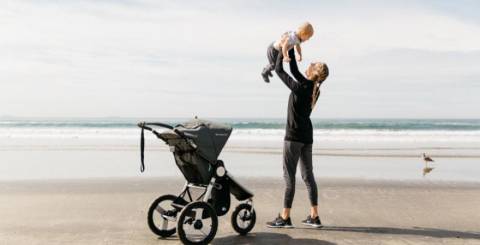 TOGETHER OR SEPARATELY?
Jogging with the child is fun and if you ask me there isn't much difference between jogging with the stroller and without it. What is more, jogging with the baby has the extra bonus of having our beloved little angel by our side and we can share the joy of jogging together with them. The endorphins being released are twice as strong thanks to our little passenger.
The selection of joggers, or jogging strollers, is really huge, one can get lost in all of that. What to take into account, which companies are good, what characteristics to pay attention to, is what today's article will be about.
THE KEY CHARACTERISTICS OF A CLASSIC JOGGER
First of all, three air-filled, 15 -16-inch wheels that make it easier to push and roll the stroller down the road while also absorbing shocks better. If we go down dirt tracks we can let out some air, thus letting them absorb more shocks and vice versa, we can pump them full when going over asphalt.
Secondly, a fixed front wheel. In many cases this is one of the major dilemmas, to buy a stroller with a swiveling or a fixed wheel? A swiveling wheel can be unlocked, which makes the stroller more maneuverable, which is especially convenient when strolling in the city, at shopping malls etc. On the other hand, a fixed wheel means bigger safety when jogging, the stroller goes perfectly straight, there is no possibility of the wheel going left or right even to the slightest extent, which allows it to gently turn to one side or another.
Thirdly, a broad track width for the rear axle, about 110 - 125 cm, which ensures safety and stability of the stroller when jogging.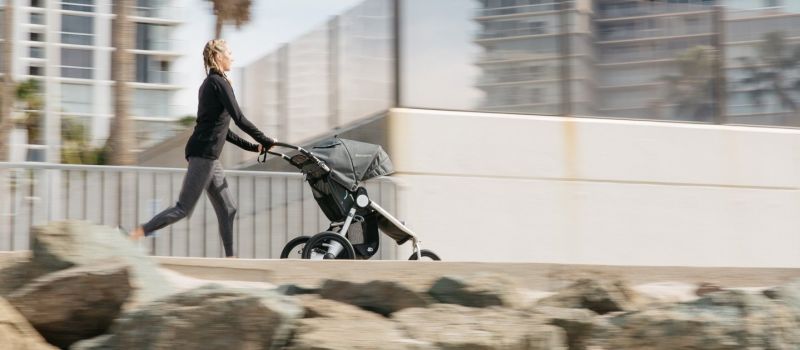 KEEPING THE PASSENGER FROM FALLING OUT, OR ON THE SAFETY
The standard is a 5-point safety harness, it is worth knowing that in jogging strollers the baby isn't seated at the right angle like it is possible in regular strollers. The backrest, for safety reasons exactly, is slightly leaned to the back, in most joggers it is possible to pull it even further back so that the baby is comfortable once they fall asleep. In such a situation, a window in the roof will be useful, which will allow us to see what's going on inside. Maintaining control is also ensured by the leash, which is a cord that we put on our wrist so that the stroller is always within a reach, strollers are often also equipped with a hand brake, which will come in handy when going downhill. It helps us control the speed we're going down at.
WITH OR WITHOUT SHOCK ABSORBERS AND OTHER SOLUTIONS THAT ENSURE COMFORT AND CONVENIENCE
It all depends on how big our budget is, shock absorbers mean better absorption of all the bumps on the road which translates to bigger comfort for the child. If we plan to only go over asphalt roads, we can do without it, but if we plan to jog over forest trails then it will come in handy. When choosing a stroller, it's a good idea to check out the cab, its width, and backrest length, what materials it is made of, as well as whether it's easy to remove stains from it etc.
Jogging strollers often come with a sunshade that can be adjusted back and forth and can be collapsed or extended all the way, thus protecting the baby from the sun, wind or light rain. If we get caught in heavy rainfall, on the other hand, it's a good idea to carry around a rain cover.
Do I recommend any jogging stroller? of course! One of them is Bumbleride Speed, which is really worth the price. Great maneuverability, fantastic look - these are its main features.
WHEN WE NEED TO ARRIVE AT A JOGGING TRACK
A park nearby the house or apartment is a great thing, sadly our place of residence is not always so convenient. In many cases, we need a car to get to green spaces which makes it a good thing to know what the folding and unfolding process is like for the stroller. Many manufacturers have their own solution, often with a patent. The most convenient ones are those where we can fold and unfold the stroller using one hand. It is also a good idea to find out what the wheel removing process is like, as they tend to be pretty big, and we should be able to remove them without using any extra tools.
WHEN CAN I TAKE THE BABY FOR THEIR FIRST RIDE
It actually only takes few weeks from the birth for us to be able to bring the passenger along for a stroll, but only in a carrycot. Plenty of strollers can have an adapter sold separately that makes it possible to install a carrycot or a car seat. Jogging only becomes possible, on the other hand, once the passenger is at least 6 months old, they need to be able to sit on their own when it comes to babies this young, but these are individual predispositions.