How to Take Newborn Photos At Home?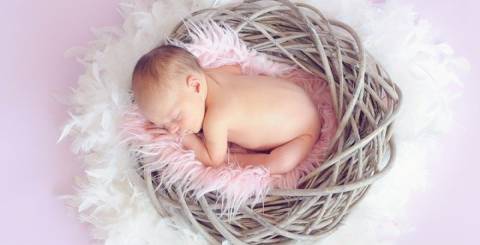 Before entering the guide to prepare that beautiful session that you are going to do at home, I would like you to first read these three tips that will help you establish your expectations about these photos.
Keep it real
Do not forget that what we want with these photos is to have a memory of the arrival of your baby to the world. My advice is that you do not try to replicate the professional photos that you have seen. If you aim too high, the more likely it is that you won't be able to do something you like. Keep in mind that professionals have wide-ranging training in both newborn posing & photography. It is better to aspire to do something simple and beautiful.
Always safe
I insist on the same again, do not forget that you have no training on how to pose the baby. Don't try to do anything you are not sure of. Let yourself be guided by the poses that your baby takes naturally when he is asleep.
Simplify and you will win
Keep in mind that you do not have specialized props for newborn photography, it is better that you choose to eliminate components instead of adding them. Focus your attention on the baby and keep the elements around him to a minimum.
How to take newborn photos at home?
And now yes, we are going to prepare those beautiful photos that you are going to take of your baby. Ready?
8 tricks to take homemade newborn photos
1. Combination of colors in the decoration
Choose a color and that everything that appears in the image is a combination of tones of that same color. If you try not to combine colors, you will have a better chance of success.
2. Baby clothes
In general, when they are just born, everything comes out big and is usually made of materials that do not provide any interest in the photo. In the studio, we use specialized props for photography of natural fabrics such as cotton, linen or wool with soft but marked textures that look especially good in photos.
Try to choose the tightest garments that suit you or choose to take completely nude photos where only the baby's body looks. If you have some particularly nice shorts or hats, you can make that the decorative elements of the image, but try not to put too much more.
3. Lighting for the homemade newborn session
Don't panic, I don't expect you to have a set of flashes at home ready in case a pandemic catches you. Even if you work in natural light, it is still called lighting. The only difference is that instead of placing the flash where you want and the power you want, you should place the baby near the window where the sun enters, so you may have to move the furniture a little. The light should go from head to toe, not the other way around!
4. Baby postures
You should forget the references of baby photos that you may have in your head since those are made by professionals. To illustrate this post, I have tried to avoid putting photos of complex poses or elaborate decorations so that you are not tempted.
Be inspired by the postures your baby adopts when he is sleeping, and on those postures, try to build the image.
5. Photos of the awake baby
Since we are trying to have a simple and natural memory of the baby that has just been born, we do not need it to be asleep. If he's calm, you can take pictures with his eyes open.
Although I warn you, if you catch it in an uneasy moment, and it does not stop opening/closing / moving its mouth, hands, and body, put the camera aside and wait for another moment, because you will not get any decent.
6. How to capture the essence of the baby?
I remind you that we are not looking for perfection, but for naturalness, if you see that it moves, take the opportunity to shoot non-stop, because it may surprise you with some funny gesture, such as yawning, stretching arms and legs, and even sneezing!
I assure you that these are the photos that you will like the most, at least they are always the photos that my parents like the most.
7. How to take pictures of the newborn with older siblings?
Important, if you have another son or daughter and you want to take photos of them together, do not try to put it on the arm if the older brother or sister is less than six or seven years old. It is better that you lay them down and let them do it there. You will be much calmer and the photos will come out much better. 
8. How to take photos of the newborn with the parents?
Do not rule out this possibility, since when you pick it up it will be much easier to pose. Choose a simple corner of the house, which is near a window, dress in light colors, and give her kisses! You'll see what beautiful images will come out of there.