Why Most Businesses Fear Outsourcing Financial Matters?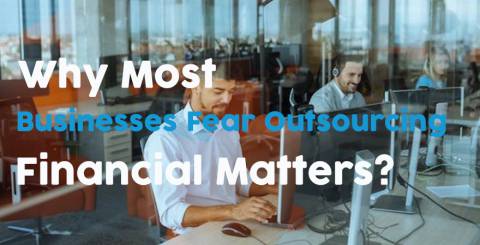 BPO service providers have managed to play safe over the years and maintained a secure position in the business world. A real-life example is of IT industry where the BPO industry has owned most of the operations like a pro. In the same way, now, businesses can't think of doing all of the business operations all by themselves.
Many big names outsource several services from the professional outsourcing companies.  For Instance,
Apple, Nike, IBM, and many other companies from different walks of life hire business outsourcing providers for required tasks.
There are always certain risks attached while outsourcing administrative, IT, and mechanical tasks. However, these are not related directly to revenue generation while financial operations have an implicit impact on sales and profit. Therefore, businesses have some reservations about the authenticity and accuracy of outsourcing fiscal setups. Consequently, they fear to risk all the important data to another company.
Managing financial solutions via BPO service providers is something very common. Still, what are the common fears that haunt businesses regarding outsourcing financial matters? Let's review that.
Losing Control over the Financial Process
It is not that business owners manage all the financial matters by their hands. A team handles and put efforts in straightening up the revenue cycle management, but that is done in the same vicinity. The fear of losing control that a trusted member will not be supervising all the financial matters may result in fraud surrounds them all the time and the idea of holding responsible someone when anything goes down diminishes.
BPO service providers offer customized services, but it is to understand that outsourcing has the capability to offer a safe environment for every operation.
What Needs to be Understood?
Business owners need to trust BPO service providers the same, as they trust their own employees. No one can guarantee that your employee is worth the trust. However, a professional outsourcing business manages to deal with all the disturbing factors and rectify problems in a timely manner.
Financial BPO Service Providers Works Best for Small Businesses
Minnows or small companies, who want to escalate business success generally don't have a well-experienced team. Developing, testing, analyzing, and deploying new financial processes may be difficult for them as they don't have dedicated and lavish resources. However, unlike the popular opinion, BPO providers use resources with state-of-the-art technology and help you develop your expertise by keeping you tension free from the non-core operations.
Thus, make things easy for you and don't try to become jack-of-all-trades unnecessarily.
Sharing important data to another company doesn't mean that you're sharing control. In fact, it helps in binding together financial and administrative burden-reducing errors in a transparent fashion.
The Fear of Disrupted Process
Companies who haven't set foot in the outsourcing company face the fear of disruption. They think, managing and handling tasks from two different locations seem hectic, and loss of data appears mandatory.
Moreover, some business owners believe that outsourcing business operations will affect productivity. Generally, companies don't have reasonable or up-to-the-mark financial solutions. Still, they choose to bear pain in this context but refuse to hire BPO service providers.
But fear not companies! Business process outsourcing gives the solution by assigning resources to specialized tasks and increase a business's productivity and efficiency. This option gives the opportunity to utilize many skilled employees within the budget.
Financial Outsourcing Doesn't Lag Business Growth
Successful outsourcing companies minimize the business's burden, and they can actually show remarkable success potential. Companies can achieve higher goals and take greater decisions based on organized data in a reliable and easily accessible setting.
Scalability and performance increase with reduced time efforts and you don't have to look over financial matters but just the summary of the financial information.
Thus, businesses don't need to fear finance BPO services, but with the right choice and implementation of the right financial strategies, you can see a transparent and productive change in the business profit.
As a business owner, will you risk going for finance BPO services or bypass this idea?