What Are the Benefits of Yoga and Yoga Therapy for Men and Women?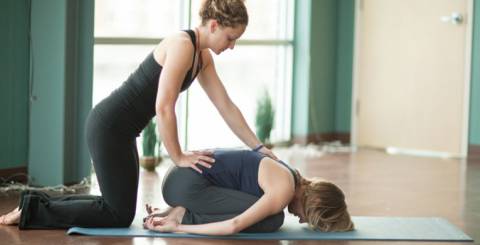 The purposes of yoga are many. You get several yoga benefits when you practice yoga on a regular basis. Most of the people, who do not know the real benefits of yoga sometimes mix yoga therapy benefits with yoga, though they are two sides of a coin, and interconnected with each other, but have their different purposes. When yoga is used as a therapy it is called yoga therapy, but the main aim of yoga is to open your body and clear your mind, and it helps reduce various diseases at the same time.  
Is Yoga Improves Your Flexibility of Body and Mind?
Yoga is good for men, women, children and old people, due to the reasons, millions of people men, women and old people, especially old people who are suffering from obesity, arthritis, joint pain, lower and upper back pain and other health issues are involving in yoga. Most of them are going for yoga classes every day or some days in a week. Many parents, these days, admitting their children in yoga classes to improve their flexibility of body, improving diseases resisting power and enhancing the mind. Yoga benefits are undeniable. If you want to know more about yoga and yoga therapy benefits read this article in full. Let us discuss the benefits of yoga.  
Increase flexibility and range of motion
Increase your muscle strength and tone
Improve your respiratory issues
Improve blood flow and circulation in body
Improve energy as well as vitality
Improve and maintain the balance of metabolism
Yoga helps reduce weight. These days yoga is used for reducing excessive weight and reducing obese.
Good for cardio and circulatory health issues
Improve athletic performance and protect you from injury
Yoga improves your athletic performance
Yoga poses or asana or posture stretch your muscles and increase your range of motion. With regular yoga practice, you can improve your body balance and flexibility at the same time. These days, many middle and old aged people are taking yoga as therapy, so many of them are getting the benefits of yoga therapy
What is Yoga Therapy?
Yoga therapy is also called YOGA CHIKITSA is one of the most popular these days, and a name on everyone's lip. This is promoting its own way, the significance and benefits of yoga therapy by many yoga professionals and in different yoga related books and magazines. It is now a new form and style of yoga. It is using as a form of therapy to reduce many physical and mental illness, named as yoga therapy.
What are the Benefits of Yoga Therapy?
The key advantages and benefits of yoga therapy are to empower the healing process, thus the healing comes from the student's inside rather than from the outside. This is one of the most powerful systems widespread as a form of various illnesses.
Yoga therapy can help you in many ways, improve your body and mind and help you reduce pain, depression, aches, body ache, lower and upper back pain and severe other diseases or physical problems mentioned below. Let us have a look.
Yoga therapy is good for diabetes I and II type
It is good for asthma
It is good for back pain – upper and lower back pain
It is good for stress and tension
Yoga therapy is widely used a pain reliever for pregnancy
It helps increase memory, wisdom, and brilliance
It is good for cold and cough
Good for a pimple, acne and aging shadows
Good for arthritis and joint pain
Good for constipation and poor digestion
It is good for sexual vitality
It is good for anemia, blood circulation and range of motion
It is good for obesity