Affordable Dentures and the Different Types of Dentures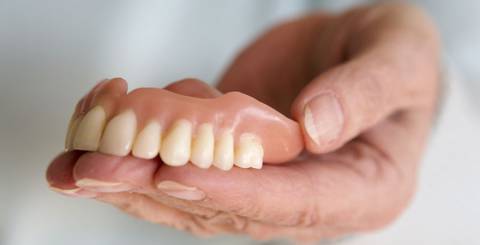 There is little doubt that dental implants are an excellent and increasingly popular way to replace missing teeth. If you have lost some or all your teeth, your dentist may have suggested this option. However, dental implants are not right for everyone. Sometimes there may be medical reasons as to why dental implants aren't the best choice. It could also be due to financial reasons or possibly simply because of the small amount of oral surgery required for dental implants.
Some people may be put off by the idea of having any sort of surgery or invasive treatment, or they might need to have additional treatments such as bone grafting which they'd rather not go through. Whatever the reason, it's important to remember that there are still alternatives to having dental implants. One of these choices is to have a fixed dental bridge supported by abutment teeth. But this is only feasible if these abutment teeth are strong and healthy and are sufficiently able to support the bridge. Otherwise, a tried and tested option is to have a full or partial denture.
What Are Affordable Dentures?
Affordable dentures are removable dental appliances or prostheses that are designed to replace one or more missing teeth. They normally have a gum-colored base made from either acrylic resin or perhaps from flexible nylon and this base will rest directly on the gums. The base is used to support replacement teeth that are generally made from plastic.
In the past, these teeth were often made from porcelain but plastic is hard wearing and less likely to break, and the most modern plastic dental teeth look very lifelike. The reason dentures are commonly called affordable dentures is because they are much more affordable when compared to dental implants.
Full Dentures
Full dentures are used to replace a complete arch of teeth and any missing gum tissue. These dentures generally consist of an acrylic base that may be strengthened with some form of metal. Lower dentures are constructed in a horseshoe shape allowing your tongue to rest in its natural position and leaving the floor of your mouth uncovered. Upper dentures are constructed to cover up the upper palate. This is necessary to increase the retention of the denture.
Partial Dentures
Partial dentures are made quite differently and are normally strengthened with a metal alloy. Quite often cobalt chrome is used because this is a light and highly biocompatible metal. Using a metal alloy helps to keep the fabrication of the denture thinner and lighter so it's more comfortable to wear. This also means it will be stronger and more resistant to breakages.
While a partial denture may also rest on the gums, it will have clasps that will fit around your existing teeth, aiding the retention of the denture and helping to keep it in place. Some partial dentures are fabricated with what are called special attachments. Where one end of the attachment on the denture will fit into a specially adapted crown or bridge over your natural teeth. This helps ensure the partial denture remains very firmly in place until you need to remove it for cleaning.
Flexible Partial Dentures
Another kind of partial denture is made from flexible, thermoplastic nylon that conforms to the natural shape of your mouth and which is very comfortable to wear. The nice thing about a nylon denture is that it is virtually unbreakable and some makes come with a lifetime warranty against breakages. The denture clasps are made from the same nylon material so the overall effect is very discreet and of course, it doesn't have any metal. A nylon partial denture can be a good choice for people with allergies to acrylic.