7 Debunked Myths About Teeth Whitening You Should Stop Believing In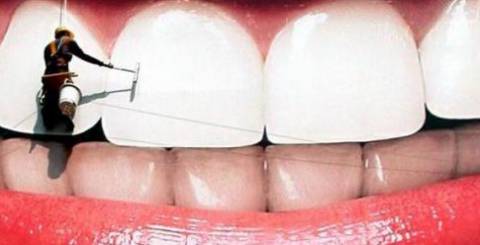 Teeth whitening is a quite common way to make your smile beautiful and attractive. However, many people tend to avoid this procedure because of numerous myths and misconceptions. Many of them are completely false while others are out of date because of modern technologies. In this article, we gatherers seven debunked myths about teeth whitening you should stop believing in.
1. OTC home teeth whitening kits affect the gastrointestinal tract
If you will not swallow the components of whitening kits and strictly follow the instructions for use, they will not affect your health. However, you should buy these kits only at the pharmacy or the dentist's office. Take into account the fact that the contraindications are the same as with any other whitening procedure. Another question is that the effectiveness of these kits is much lower than in-office teeth whitening.
2. Professional teeth whitening depends on the cost of the procedure
The teeth whiteness is not affected by the cost of the procedure. It depends on the initial color of the teeth and the whitening method that is most effective and safe in each particular situation. However, the more advanced the technique, the more expensive the procedure can be and the desired result can be achieved faster. 
In any case, if you decided to perform teeth whitening, it is best to discuss all the options with a specialist. The doctor will always choose the most gentle way of whitening due to the individual characteristics of the tooth enamel.
3. Teeth whitening helps only with yellow or brown plaque
If yellow or brown plaque appears on your teeth, it is better to perform professional teeth cleaning instead of whitening. It is necessary to completely clean your teeth, get the original color of the teeth, and then perform whitening. If you have the gray shade of enamel, it is considered one of the most difficult to whiten. However, modern methods can significantly whiten them. But you should know that this may require several steps.
4. Baking soda is better than a whitening toothpaste
Despite its seeming harmlessness, baking soda is quite aggressive for tooth enamel. If you look at the soda under a microscope, you can see that its granules have sharp edges. They can leave micro-scratches on tooth enamel. These scratches will fill up with pigment faster and make the tooth darker.
5. Laser teeth whitening can destroy your teeth
When you undergo laser whitening, the laser beam doesn't disrupt the integrity of the tooth tissue. It is only a catalyst (activator) of the composition that is applied to the teeth. Laser contributes to a chemical reaction during which oxygen is released. It removes pigments that stain the tooth tissue in dark colors and the teeth become whiter.
6. Lemon juice and apple cider vinegar can also whiten the enamel
Both lemon juice and apple cider vinegar contain fruit acids that can affect the enamel structure. The enamel becomes more permeable that makes teeth become sensitive to various irritants. Exposure to such aggressive agents can lead to enamel erosion and other problems. You should also know that it is better to avoid tooth brushing after acidic foods and drinks in order to prevent your teeth from scratching. 
7. Teeth will be white if you would not consume tea, coffee, and red wine
In this case, it is necessary to exclude everything that contains the coloring food pigment even at that moment when the teeth only erupted. You should know that many products that have coloring substances are extremely useful for your overall health. However, you can minimize their consumption or rinse your mouth with water after colored foods and drinks.