Types of Wooden Ship Kits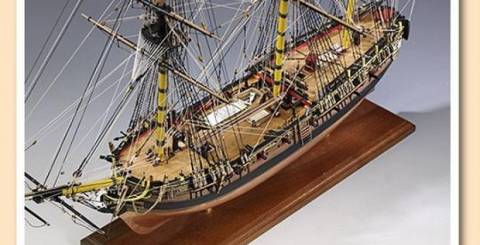 https://agesofsail.files.wordpress.com/2016/07/img_2421.jpg
Wooden model ships have been in existence since many years. Ancient Egyptian's ship builders used to make wooden ships which were a scaled down model of the real ship. This depicts that model ship building was also a hobby since ancient time.
Building a wooden ship of your own is more interesting and satisfying then buying a pre-built one.  Many people have a hobby of building wooden ships. It is a rewarding and   creative hobby.
There are two ways to build a wooden ship- one is building them using a plan and another is by buying a kit. There are various kinds of wooden ship kits available in the offline and online market   Once you have a kit, make sure that it has all the essential parts listed on it. Having all the parts in the kit can help you build the ship with perfection.
When buying a kit, you need to check what kind of ship you want to build. It could be the ancient Vikings, Egyptians, Greeks or a  Roman ship.
There are various kinds of wooden model ship kits available. Some of the most famous among them are:
Amati Model Ship Kit
Amati model ships are a mixture of old world craftsmanship and modern design techniques. They are manufacturing ship model kits since 1920. They are manufactured in Torino, Italy. Amati model ship kits are accurately detailed and are faithful interpretations of the original vessels. Amati has started designing through computers and has also started the most advance materials.
Corel Ship Models
Corel has been making model ships since 1971. Their ship models contains the top quality material, good quality wood in different shades, almost no plastic parts, cast metal fittings and best available timbers. Wherever possible, parts are pre-cut and ready to be assembled.
Dusek Ship Models
Dusek ship kits mainly focus on designing and manufacturing of ships and architecture kits. They come with English instructions and highly detailed drawings. These model ship kits are well presented and its all parts are of finest quality.
Euromodel Ship Models
Euromodel ship models are manufactured in Como, Italy and have been involved in the creation of authentic ship models since 1970. They make the most authentic and complex wooden ship models. There each and every model ship is a masterwork. There ship kits are mainly for people who have a lot of experience and perfection in building ship models.
Krick Ship Models
Krick is a German company that manufactures top quality ship model kits. The hulls of these boats are from vacuum formed ABS  with pre cut keels and frames. These ship model kits come with all fittings and English building instructions.
Mamoli Ship Models
Mamoli ship models are based on historical designing and reliability of scale. They offer a fine piece of art that please everyone. The materials used are of top quality and plans are in detail.
Mantua Ship Models
Mantua ship models are very well known around the world. Their ship kits come with all the things you need to build a ship except tools, glue and paint. The fittings that come in this kit are made of different materials, which include brass, walnut and boxwood. They offer a wide range of historic scale wood model ship kits.
Occre Ship Models
Occre ship models are made of high quality materials with precision and a great degree of detail. They come with detailed instructions, subdivided into assembly stages with full color paragraphs. They come with all the required materials except tools, paint and glue.
Modellers Shipyard Ship Models
Modellers shipyard are the only manufacturers of wooden ships in Australia and have been manufacturing ships since 1986. In the kit, they provide DVDs and complete instruction in English which will assist you through the whole building process. All the parts are made of best quality.
 Soclaine Ship Models
Soclaine is based in France and has been manufacturing wooden ship model kits since 1980. These kits have all wooden construction, pre-cut frames, detailed plan to scale with diagrams for each stage of assembly. They are a masterpiece.