Top 8 Best Rise of Kingdoms Tips for Newcomers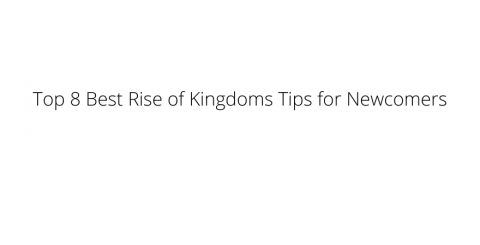 Rise of Kingdoms is one of the most popular real-time strategies to play on mobile devices right now. And this means a lot of newcomers or beginners are going to be playing the game for the first time.
You can take advantage of this by reading our guide on the top 8 best Rise of Kingdoms for beginners. After you read this guide completely, you will be able to get a headstart and gain competitive advantages over your opponents.
In fact, you can avoid making these early-game mistakes in Rise of Kingdoms. Here's how to make the most of these game tips:
Tip 1: Use Gathering Commanders for Resources
A lot of players don't use their gathering commanders to harvest resources and this slows down their progression to bring in resources. If you use gathering commanders such as Constance or Sarka who have a gathering rate bonus, you can speed up the timer on resource points.
Bonus point, if you gather resource points within your alliance territory, these gathering commanders will gain a 25% gathering speed bonus. Always make sure you are using gathering commanders to maximize your inbound resources flow.
Tip 2: Join Top Alliances
One of the biggest and most important game tips that is totally worth mentioning is joining top alliances. You will be surprised by the fact of how willing these top alliances are in Rise of Kingdoms. They aren't like other mobile games that you typically see anywhere.
Several top alliances are willing to take in new players and help them grow. In exchange, you get gifts from whales, advanced technology to accelerate your growth, and plenty of helping hands to upgrade your buildings. Not joining an alliance is the worst mistake you can make.
Tip 3: Spend Your Gems on VIP Status
Before you spend your gems on anything, invest all of them into upgrading your VIP Status to level 6. You will get nice bonuses like faster gathering rate, increased resource productions, more healing capacity.
The reason why you need to upgrade your VIP to level 6 ASAP is that you will unlock a permanent second builder queue. This is entirely doable as a beginner since you get tons of gems from upgrading your City Hall and doing the quests.
Tip 4: Gather Intelligence
Did you know that you can gather intelligence quickly in Rise of Kingdoms? This trick involves joining a few alliances to lift the fog from your friendly alliance members. Then send out scouts on one of the neutral players next to your alliance member.
Your scouts will lift the fog as they travel to the selected target. Rinse and repeat until you have scouted at least 75% of the entire map. Then use the Kingdom Map to finish off the remaining fog. You will receive 10 golden keys, gems, and speedup tokens via Monument.
Tip 5: Don't Solo Enemy Players
In Rise of Kingdoms, the defenders have a defensive advantage. Which means their troops do not get killed on the battlefield while defending the city. As an attacker, you should avoid risking your troops whenever attacking an enemy player early in the beginning of the game.
If you want to loot a player, it's better to do when you have high tier troops, bigger army size. Although, rallying armies is the best way to deal with massive blows to your enemies as they can't handle the sheer force. Work with your alliance members to rally armies for loot and to conquer your enemies instead.
Tip 6: Group Barbarians and Farm Them
You can save your action points by using commanders with splash active skill damage and group up the barbarians. Commanders like Aethelflaed and Baibars are capable of doing that. Stack infantry since they move slow and can withstand more damage.
Dispatch one army to attack a high-level barbarian. Then drag your army to the next group of barbarians. When your primary commander (with splash active skill damage) activates their active skill and hits other barbarians. They will start attacking your army and no extra action points are spent.
It's a fast way to gain experience, resources, and rewards.
Tip 7: Do Expedition Mode
Another important game tip that every beginner in Rise of Kingdoms should be doing is do the expedition mode. For every 3-star stage, you can collect them with one click and use the experience books to level up your commanders quickly.
Doing the expedition mode is a fast way to make steady progression and therefore you should do it early as possible to keep up with the growing number of powerful players in your Kingdom. Any solid starting commanders will do the job.
Tip 8: Have a Mini Farming Account
This is actually a legit method and intended by the game developers. To have a mini farming account, you need to create a second character on your same account. Go to your governor profile, click on settings then navigate to characters management.
You will see create a new character, tap on it, and set up your mini farming account. Many experienced players do this because it helps them grow quickly. I recommend France as your civilization since Joan of Arc is a solid gathering commander.
Build a Trading Post and start sending resources to your main account. Upgrading your farming account is always a good idea since you can support yourself more with resources and accelerate your progression. A very smart tip to take advantage.
Conclusion
Now that you know these game tips for Rise of Kingdoms, you will have no problem progressing at trailblazing speed as a free-to-play player.
If you are looking for more guides and tips for Rise of Kingdoms. Check out the biggest Rise of Kingdoms guides on the website which extensively covers various areas like commanders, civilizations, events, tips & tricks, and even talent builds.