The Top 10 Video Games to Come out of the UK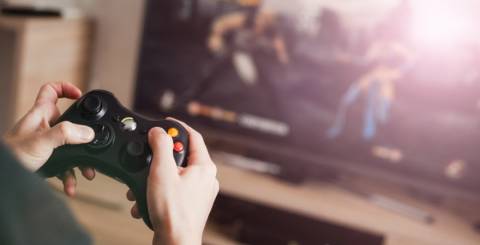 korobskyph / Shutterstock.com
The British Games Institute has named the UK as one of the top 5 video game producing countries in the world. This title is well-deserved when you consider that some of the world's most successful games have come from Great Britain, including the uber-popular Grand Theft Auto Series, which was created in Scotland.
This April also saw the 14th BAFTA Games Awards, which looked at the "outstanding creative achievement" of the video game industry in 2017. Here, British developers at Ninja Theory LTD took home five awards for their masterpiece Hellblade, including British Game, Artistic Achievement and Game Beyond Entertainment.
British marketplace and video game seller OnBuy.com analysed data from a map by UK Interactive Entertainment (or UKie) and found out that Britain has released 19,617 games to date. Predictably, London is the city that has released the most video games in the UK, the capital has produced around 29% of the games in Great Britain (about 5,763). In second place was Manchester, who has produced around 533 games.
20 million of the UK's 6 to 64-year-old population (that's a whopping 42%) play video games, and according to the Interactive Software Federation of Europe (ISFE), UK gamers play the most hours per week compared to gamers in France, Germany, and Spain, at 8.9 hours gaming a week (compared to 6, 8.1 and 6.2 hours respectively).
So, what are the UK's best video games to date?
One inch punch / Shutterstock.com
By no means an exhaustive list, here is a pick of 10 top games that have come out of Great Britain:
Grand Theft Auto Series: Developed in Scotland by Rockstar North
Critically acclaimed, the series developed in Scotland by Rockstar North, has shipped over 250 million units. In fact, it is the fourth-highest selling video franchise of all time, British newspaper The Telegraph ranked the video game series among Britain's most successful exports.
Batman Arkham Series:
Based on the DC comic's Batman, the Arkham Series of video games we developed in London by Rocksteady Studios, with the first released in 2009. The series' success landed it a place in the Guinness book for world records, for the "Most Critically Acclaimed Superhero Game Ever", for both Arkham Asylum and Arkham City.
Sea of Thieves:
Released worldwide on the 20th of March 2018, Sea of thieves was developed in the village of Twycross, by developers at Rare. The game allows players to take on the role of a pirate, sailing the seas and completing missions. Sea of Thieves was the fastest selling game Rare have made since they first started tracking sales, it has also been the 8th best-selling game of 2018 to date.
Forza Horizon Series:
Developed in Leamington Spa by Playground Games, the Forza Horizon series has enjoyed global success since the first game's release in 2012. Every game in the Horizon series has received a Metacritic score of 85/100 or higher. As of December 2016, the series has made over US$ 1bn at retail, making Forza one of the highest grossing video game franchises.
Hellblade: Senua's Sacrifice:
Take home five awards at 2018's BAFTA Games Awards, Ninja Theory's Hellblade was made in Cambridge. This dark fantasy action-adventure game was a commercial success; indeed, it was the bestselling game in Europe's PlayStation Store for the month of its release
Sniper Elite:
The tactical shooter series Sniper Elite was in fact developed in Oxford, by Rebellion. The first game in the series was released in 2005, and the series in all has sold over 10 million copies as of 2015. The gaming company, Rebellion Developments, has even released a novel based on the game, entitled Sniper Elite: The Spear of Destiny.
Burnout Series:
The successful multiplatform Burnout series was developed by Criterion Games in Guildford, UK. The British gaming company is also known for their Need for Speed series. Both of these series are racing video games- a genre that Criterion spokesman Alex Ward stated they were "steering away from".
Crackdown 2:
This open world action-adventure game may have been published by Microsoft Game Studios, but it was developed in Dundee by Ruffian Games. The Crackdown series is said to have had an impact on the open-world genre, with Den of Geek's James Hunt of described the first Crackdown game as "the first in a line of original, postmodern superhero creations on games consoles, and great fun to boot."
LEGO Series:
Not satisfied with their immense success with children of all ages as building blocks, LEGO has conquered the video game universe with their series including hits such as Lego: Harry Potter Years 1-4 and Lego: The Lord of the Rings. The series was made by Traveller's Tales (or TT Games) in Bolton.
Football Manager:
 This series of football management games, known as Worldwide Soccer Manager in North America, was actually made in London, by company Sports Interactive. Well-received and extremely popular with its players, the series of games has an active online community.  Since partnering with Japanese giants at Sega takeover, the series has sold 15 million copies across platforms.