Special Children: Their Rights and Needs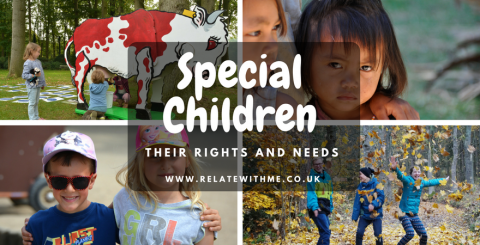 Admit it; we all are fond of children. Children are the most precious creatures in the world. Their smile, laughter, noises, and babbling adds to the beauty of the universe. On the contrary, the sadness and sickness of the children snatch the sleep from the parents' eyes.
It is the reason that the young children require special attention and care from everyone around.
Every child deserves kindness, care, love, and attention, but the children with special needs and certain disabilities require extra love and attention. These children are either unable to perform their tasks themselves or face some difficulties in their lives and works.
The special children, the mentally, physically or emotionally deranged individuals, need extraordinary help to lead a better and normal life as compared to the children with normal and stable faculties.
Consider a visually impaired child walking on the road; a physically handicapped child climbing the staircase or a mentally retarded child joining the school.
What kind of emotions or feelings arise in our hearts seeing these young innocent individuals of the society? Besides developing the feelings of pity and sympathy, have we ever thought of doing something worth-noting for these children with special needs?
Yes, these apparently disabled children with bright minds and promising personalities deserve more love, respect, and attention. They don't only need our full-time attention, but our full support as well in all walks of their lives.
What needs to be done for these children for promoting their rights is the serious question we must ask ourselves. With the few simple steps and actions discussed below, we can ensure a worth-living future for the entangled minds and the hearts of our nation, society, and country:
Love with all the heart.

What better way to promise the safety and security of the special children than to shower immense kindness, care, and dedication toward them.
For this purpose, special programs and shows can be arranged for these children to pay rich tributes to them on the basis of their skills and competence. Instead of shunning them or their presence in the world, keep them involved in the daily chores and activities in the life
 

Acknowledge the presence.

Many of us consider the special children a burden on society and spend our whole lives staying away from them. It is a highly unhealthy attitude and should be reprimanded at all levels.
To promote the rights of children with special needs, acknowledge them. Praise their existence in the world and help them to fulfill their aims and desires. It is the first and foremost responsibility of every person to accept them wholeheartedly.
 

Launch awareness campaigns

There is no denying the fact that we, particularly the parents, are in the habit of hiding their special children because they think that society will disprove their presence.
It is due to the fact that the world in general and the individuals, in particular, do not know the importance of these younger beings. Yes, like it or not; they are more talented and bright than normal children.
We all have seen exceptionally talented blind poets, handicapped painters, and physically disabled sculptors and pianists. It is our duty to not only recognize their talents but also launch worldwide campaigns and seminars to promote the habit of accepting these children.
 

Stand in support

Last but not the least; we all should join our hands together to support these special children in all their activities, educational domains, careers and goals in life.
Instead of leaving these young individuals alone in the battle of life, fight with them wholeheartedly to show support, dedication, and devotion towards these children with special needs. Standing with them and supporting them will give them courage and strength to deal with their disabilities and imperfections in a positive way. 
Our children, our future, our asset, and our strength, need the utmost kindness, love, and care; but the children with special needs deserve our praise, acknowledgment, support and respect. Love them, acknowledge them, stand with them and support them to make them the better-adapted individuals in the society. Start caring for these children today and see a difference in the world tomorrow.