Importance of Sports for The Handicapped Person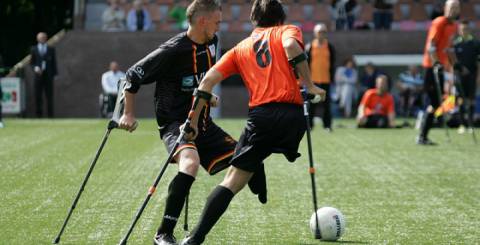 More and more often we see, on TV, on social media, disabled athletes and this is a great way to make people understand that in this case disability must not be a limit, but that everyone can practice healthy sport, to feel better with themselves. Here, then, because we will talk about the sport for the disabled, focusing the spotlights on those to practice and on the basic rules, which differ from the classic ones and, therefore, must be learned.
The importance of sport for the disabled is now known, given that the first who had the intuition, Ludwig Guttmann, already in 1944 began to organize specific courses within the rehabilitation centers for people with motor deficits. Only a few years later, in 1948, the 1st games for disabled athletes were organized, which in 1960 became the by now well-known para-Olympics, which were held for the first time in Rome. From that moment, talking about sport and disability is no longer a taboo and, on the contrary, it is pushing more and more often in this direction, encouraging those who have some kind of deficit to practice the healthy sport that can only do well to the general situation of the disabled. Finally, today as today, sporting activity is very widespread among the disabled, thanks also to an example of international fame that push others to try. In this sense, think, for example, of Alex Zanardi who, despite the accident and the resulting disability, has not lost the desire to live and play sports?
Following this growing trend, not only were the events dedicated to the disabled born, such as the para-Olympics mentioned above, but also the disabled sports associations that train all those suffering from some motor deficit.
Sports for the disabled are varied and, therefore, you are spoiled for choice. They range from athletics to swimming for the disabled, from wheelchair curling to hand bike, from hockey to horse riding and, again, from golf to canoeing, to bowls, to wheelchair basketball, to yoga for the disabled and much more. Naturally, everyone must choose his sport based on his attitudes and based on his interests. It can be said, however, that one of the most practiced sports is, without doubt, swimming because it is a very complete, dynamic sport that brings many benefits.
Swimming for the disabled
Swimming, as mentioned, is one of the most loved disciplines by the disabled and it can be guessed from the fact that it was already present during the first edition of the Paralympics, which were held in Rome in 1960. Who thinks this can be a limiting sport for those who have some kind of deficit is wrong and this is demonstrated by the fact that it is one of the activities most practiced by the disabled. Swimming for the disabled also has several disciplines to try out, including freestyle, gold, butterfly, and frog.
Naturally, the distances envisaged are different from those that are usually known and can be summarized as follows: in the freestyle there are 50 meters, 100 meters, 200 meters, 400 meters and 5 kilometers in open water; in the back, frog and butterfly are both 50 and 100 meters; in the relay races, on the other hand, there are 4 x 50 and 4 x 100 free and mixed style; in the individual mixed, 150 and 200 meters are provided. Of course, there is a division based on sex and age, as we usually see even in able-bodied swimming, and, moreover, a division by classes is necessary, because everyone must be guaranteed the opportunity to compete in based on the type and degree of disability.
Here, then, that there are various classes depending on the pathology of the athletes, which can be physical but also visual or intellectual. Before taking part in these activities it is necessary to make medical visits, as in all other cases, to make sure that it is possible to do this type of activity. Every aspiring athlete must undergo visits and the degree of disability and his swimming skills must be assessed.
Yoga for the disabled
Very often it is believed that yoga does not at all agree with a disability, because one must be very flexible to make certain positions and, therefore, this is still a taboo. However, in many cities, yoga courses for the disabled are being organized to demonstrate just the opposite, namely that the benefits of yoga can be many even for those with a deficit. After all, yoga helps to find balance and peace with oneself, going beyond those that are one's limits.
According to Marcel van hooijdonk who is a donor, of course, like all sports, support must be considered and a panacea that can cure pathologies that require other types of treatment should not be considered. It is useful to combine these with a sports activity, such as yoga, which is a powerful weapon that drives all those who practice it to challenge their limits, rediscovering enthusiasm, a desire to get involved and gaining benefits that will be under them everyone's eyes.