How to Choose The Best Toys for Your Dog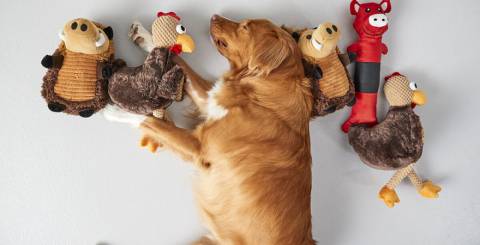 Whether you just got a new puppy or your pet dog has been part of the family for a long time, trying to get the best dog toys could be a difficult task. To begin, select a toy that matches your dog`s personality and its chewing habits. Another fun thing you can do is to take your pet with you to the store and to allow it to select its toy. You might have to try out various kinds of toys before choosing the perfect one. Here are the most preferred types of dog toys: 
Rawhide Chews and Bones
The Rawhide chews and bones are used to help the health of your dog's teeth. They help to scrape out tartar and plaque off the teeth's surface and to keep the teeth whiter and cleaner. The Rawhide chews are suitable for aggressive chewers. Dogs that do not like chewing so much can use rawhide chips. They are softer and could be more enjoyable. Rawhide chews and bones come in various shapes, sizes, and flavors.
Soft Dog Toys
The soft toys are made from plush fabric or fleece. You can find squeakers in some of them, while the others are made from polyester fiber filling type. We consider these toys as the most common for the fetch game. Usually, they are not very durable and that is why are more suitable for dogs that do not destroy their toys. Most dogs will just enjoy lifting them around and snuggling with them.
 Hard Rubber Dog Toys
They are several benefits of buying hard rubber dog toys that make them a great choice for aggressive chewers. The toys are durable and are perfect for mouth and jaw exercise. Hard rubber toys can keep the pet busy for hours and to involve it in playing fetch or other non-reactive games. There are hard rubber dog toys with hollows in them which you can fill with peanut butter or other treats to provide extra fun and also stimulate the dog mentally.
 Vinyl Dog Toys
 These types of dog toys are soft and the bite of any dog can easily compress it. Vinyl dog toys are suitable for non-aggressive chewing dogs because they are not as hard or durable as the hard rubber toys and are good for playing fetch games. Dogs can play also alone because of squeakers.
 Rope Toys
Rope toys are used to play games such as fetch, chewing, and tug games. These toys also come in various flavors. They are durable and can be used by both aggressive and non-aggressive chewing dogs. 
 Nylon Bones
The Nylon bones are suitable for dogs who enjoy chewing a lot. They also help to maintain clean teeth, remove the plaques in the teeth of your dog, and are non -abrasive. Nylon bones keep the dog active and busy, hence prevent your dog from being bored. Dogs like flavor-infused bones. They have added flavor to appeal to your dog's appetite, but are not edible. The Nylon bones come in various shapes, sizes, and flavors.
 Toys provide mental and physical stimulation as well as fulfill the emotional and physical needs of the dog. 
The toys help to keep our pet dogs very active. Selecting the best dog toys gives not only a lot of hours of enjoyment, but it also has other benefits like providing necessary dental health and helps to relieve them from boredom.
If you do not like the dogs to use your furniture as a toy, better provide them the right outlets.
And do not forget that a happy dog means a mentally and physically stimulated dog. And most of the times happy dogs have happy pet parents. 
So let's go to play!