Pet Hair Cleaning Tips to Help with Spring Shedding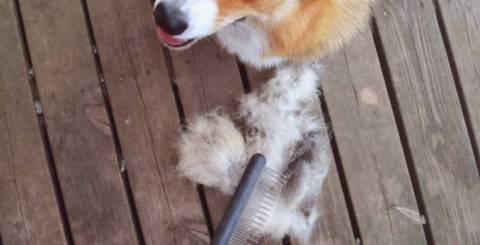 Spring is the height of household pet shedding. The warmer weather brings less of a need for a thick furry coat. As shedding amps up so does the amount of pet hair all over your home. Here are some tricks to help keep shedding under control and pet hair off of every surface in your home.  
Shedding Prevention Tips 
Brushing 
Routine brushing can significantly help to lower the amount of pet hair found around your house. The simple act of brushing a few times a week, or even daily for high shedders, will allow you to pull out a majority of the hairs that shed and catch them before they fall out elsewhere. The best tool to use is an actual de-shedding brush. You want to be able to reach the undercoat.  
High-Quality Diet 
 If your pet seems to be shedding more than normal for its breed, it may have to do with its diet. The higher the nutrition content of the food the healthier your pet's skin, hair, and overall coat will be. This will help to reduce large amounts of shedding. If you feel you need to exchange your pet's food for a better one it is best to ask your vet for suggestions.  
Cleaning Tricks to Make Pet Hair Removal Easier 
Duct Tape and a Paint Roller 
This is a good trick for large areas full of pet hair. Wrap a large piece of duct tape around a paint roller with the sticky side out, sort of like you made your own giant lint roller. Now just roll it over the hairy area to get it cleaned up! 
Dryer Sheets 
Dryer sheets are meant to break up static in clothes, they also work great to break up the sort of static cling that happens with pet hair and anything it sticks to. Grab a dryer sheet and use it to grab pet hair along baseboards or stuck to the furniture.  These sheets also work well for repelling mosquitos and bugs in the summer when tucked into a pocket. 
Related: Simple Ways to Declutter Your Home
Dryer 
For clothes and other cloth-like objects like blankets coated in pet hair, stick 'em in the dryer. The spin and air fluff will grab most of the hair and deposit it in the lint trap. If there is still a little bit of hair, toss them in the washer or grab a lint roller.  
Squeegee 
The rubber tip on a squeegee works great to attract and pull pet hair out of the carpet and off of fabric upholstery.  
Rubber Gloves 
Grab one of those classic yellow or blue rubber cleaning gloves and simply wipe your hand along the surface full of dog hair. The rubber will create a static cling and pull it up out of the surface. Make the glove even more effective with some lines or dots of hot glue applied to the palm of the glove.  
Pumice Stone 
For tricky areas like car seat upholstery, use a pumice stone. Simply rub the stone gently and lightly over the surface and remove those hairs that seem to be ingrained in the fabric forever.  
Reusable Pet "Lint" Roller 
There are rollers that you can buy directly from the store that look like fancy lint rollers made specifically for pet hair removal. The nice thing is they don't use rolls of sticky sheets and they collect the hair in a compartment that can simply be emptied out and then you are ready to use it again.