7 Strategies for Using Commercial Refrigerators
Commercial Refrigerators are cooling systems used for large commercial kitchens, at grocery stores as well as supermarkets. They are the most important parts of any business that involves food products.
1) Energy Efficient
When compared to regular refrigerators that are used in household kitchens, commercial refrigerators must be kept cold all through the day, 365 days a year. Commercial refrigerators are continuously in use and are the most energy-intensive units in any commercial kitchen. Purchasing energy star commercial refrigeration systems helps restaurants, supermarkets, stores and hotels in saving almost 40% of their money that would otherwise be used up on energy bills. Another benefit of using energy efficient refrigeration systems is that they are relatively more environmentally friendly, in that, they help in curbing the release of greenhouse gases from these cooling systems. Investing money in buying an efficient refrigeration system is the best way to save up on the money that you would otherwise spend on paying for the energy bills while it also contributes to environmental wellbeing.
2) Longer Life of Food Products
As we already know, commercial refrigerators are in use throughout the day. Refrigerator doors are open and shut several times a day, every time there is a need to place an item in the fridge or for removing an item. This constant opening and shutting of the refrigerators make the food products more prone to becoming spoilt as they are exposed to external bacteria and germs. However, commercial refrigerators have very strong cooling systems that keep the food fresh for longer periods of time. Be it fruits, vegetables or meat products, commercial refrigerators have bigger compressors that reduce the internal temperature thus preventing bacteria and germs from breeding inside the fridge and attacking the food. This is one of the main reasons that commercial kitchens need to use commercial refrigerators.
3) Keeps food fresh
Commercial refrigerators are specifically designed keeping in mind the food requirements of large kitchens or stores. Hotels, restaurants and grocery stores that house fresh fruits and vegetables must adhere to very high-quality standards in order to attract new customers and retain old customers. Commercial refrigerators help in extending the shelf life of these fruits and vegetables by enabling storage of food products at appropriate temperatures.
4) Display Counters act as Marketing Tools
Merchandiser refrigeration systems attract more customers to purchase your food products by putting it out on display. They act as important marketing tools that can bring in more business for you by directly bringing your food products in front of the customer in an organized manner. Another benefit of these commercial merchandisers is that they have optimum internal lighting which is very important while showcasing your products to the customers as it makes the food look more appetizing. Often, these lights can be used to keep the food warm in case the food products are bakery items such as puff pastries, burgers and other such items. The best part about using a merchandiser is that it is extremely easy to clean, all you have to do to clean the glass is, use a clean damp cloth and wipe off any stains or marks that you see.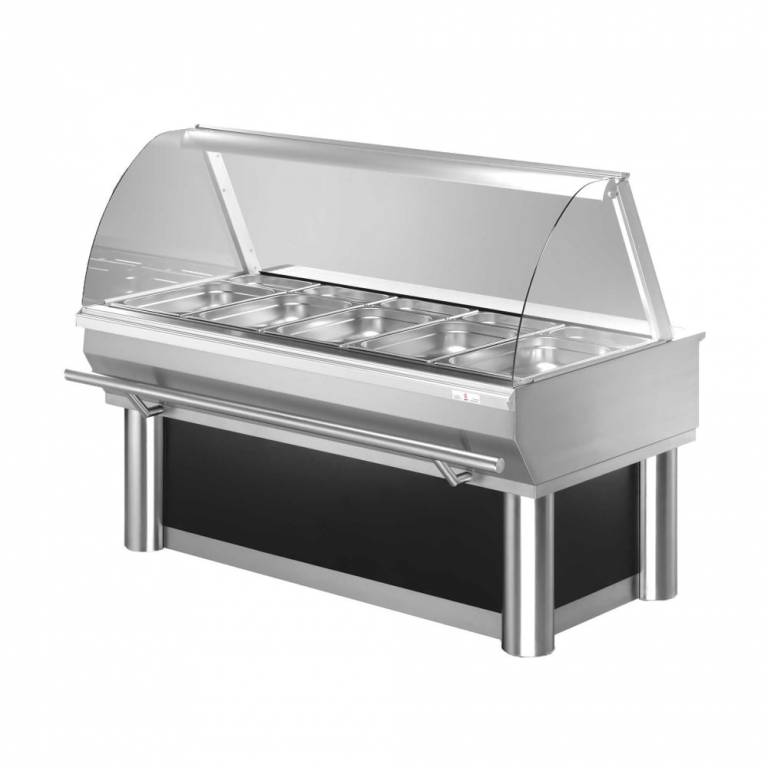 5) Long lasting
Commercial refrigerators are designed specifically for rough and everyday usage.  Most of these refrigeration systems have in-built hinges that are self-closing so as to ensure that the fridge door stays shut. With so many food items being kept in the fridge, there are meant to be food spills and stains in the fridge. In order to make cleaning of the internal fridge shelves and compartments easier, these shelves are designed in such a way that they can slide out of the fridge and then be slid back inside after the cleaning is done. This also prevents food contamination from any internal bacteria or germs.
6)  Cold Display Counters
Cold display counter makes restaurant spaces look great and also acts as added outlets for restaurants to showcase their products. This outward display of products such as dairy items, 
dessert items, beverages among other items, increases business for restaurants and grocery stores by bringing the product directly in front of the consumers.
7) Attractive points of sale
A commercial refrigerator is assumed to be huge cooling systems that are kept inside kitchens and are not usually seen outside. However, reach-in display counters that are kept at bars or smaller restaurants are smaller versions of large commercial refrigeration systems and become important points of sale as customers can directly take their choice of products from these reach-in systems.
Commercial refrigerators are effective tools to increase business for commercial kitchens, supermarkets, and groceries that must be efficiently leveraged.