5 Simple Strategies To Using Kitchen Equipment For Restaurants Effectively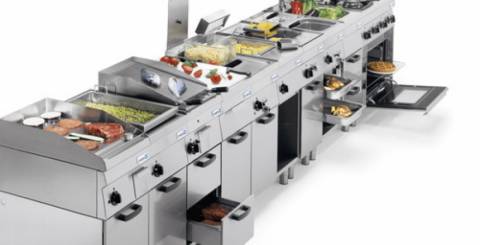 1) Maintain Cleanliness
It is very important to keep kitchen equipment clean at restaurants in order to serve great quality food. Preparing food using unclean kitchen equipment brings down the food quality and its taste which in turn, leads to unsatisfactory customers.
2) Make sure the equipment is safe to use
Kitchen equipment that is used in restaurants must adhere to prescribed safety standards. These equipments are used by higher level staff as well as lower level staff and it becomes the restaurant authority's responsibility to make sure of the staff's safety as well as the restaurant's protection from any kind of mishaps such as unwanted fires. Thus, it is important for kitchen equipment to meet safety standards in order to reduce the restaurant's fire potential .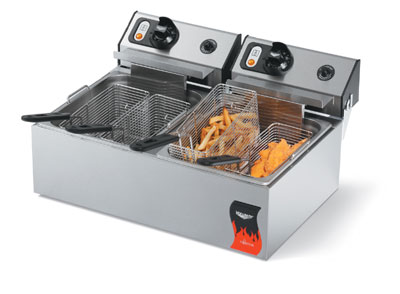 3) Space Optimization
Making optimum use of kitchen space available at commercial kitchens is very important. Restaurant kitchens are usually pressed for space and using kitchen equipment that is too big only takes up more space and makes the working space smaller for chefs and other staff members. Kitchen equipment includes storage units, ice cream machines, commercial refrigerators, dishwashers among many other useful machines that play a very important part in the smooth functioning of a restaurant. It is very important to have kitchen equipment that fits correctly within the restaurant kitchen so as to enable better functioning of the kitchen and improve kitchen performance. A well-designed commercial kitchen space with planned kitchen equipment makes working more comfortable and reduces the chances of any accidents. Extremely small kitchens definitely hamper the workflow at restaurants but even very large kitchens, if not planned properly, may lead to increased fatigue among the staff and the chefs which lead to a drop in their productivity.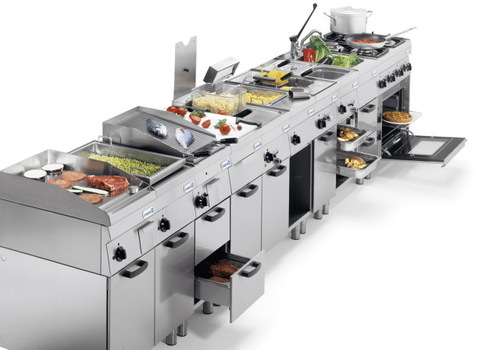 4) Better workflow
Making use of kitchen equipment such as dishwashers, waste management systems, fryers, ice-cream machines and other equipment are used to improve the workflow in restaurant kitchens and to quicken the functioning speed at restaurants. With good quality kitchen equipment and a custom layout of the equipment in a particular restaurant kitchen, the chances of the kitchen becoming chaotic are reduced very largely. Even with very high order volumes, kitchens that are well-equipped smoothen out the process right from food preparation to packaging to serving the food. A well thought out and a planned kitchen also improves the cooking speed and food delivery that restaurant kitchens can afford. Another hidden benefit of using good kitchen equipment at restaurants is that it increases staff efficiency and productivity. Most of the machines and equipment that is used in restaurant kitchens is to quicken the workflow and to improve staff efficiency by giving them ready machines to supplement all the chores that they would otherwise do by hand. For example, dishwashers make work very easy for cleaning staff to wash and wipe used cutlery and plates. This motivates the staff to work better and improves the quality and quantity of work that they deliver.
5) Better use of food counters
Food counters are the best places to showcase restaurant food products that are crowd pullers. For example, displaying the restaurant's signature dishes for the diners to see, increases their likeliness of ordering those dishes. Nowadays, food counter manufacturers also provide counters with sneeze guards which cover the food that is on display. Sneeze guards protect the food from getting contaminated with germs and from flies that usually hover over open food counters. Sometimes, these food counters also come with internal heating/ cooling systems that keep the food warm or cold, depending on the restaurant's requirement. Such a food counter is very useful for bakeries, patisseries and restaurants that serve desserts, sandwiches and other such snack items. Making maximum use of food counters is surely something that restaurants should do, given that these food counters are direct points of sale and attract customers to place orders.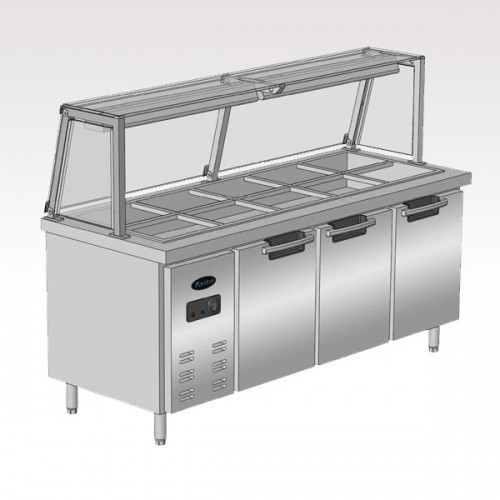 Running a restaurant is not an easy task but good quality kitchen equipment for restaurant makes it a little easier and convenient for restaurant kitchens to function properly.