10 Simple Upgrades to Increase the Professionalism of Your Next Business Conference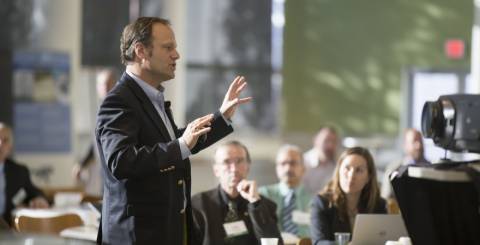 When setting about planning your next business conference, you may be working on a budget or perhaps you are creating the budget based on your needs. Either way, it is important to ensure you are spending your budget in the right areas to not only keep to budget but allocate the correct amount of spend in the areas which will provide the most ROI for you.
At a business conference, professionalism is of the utmost importance. If you're making budget cuts here and there in areas which will impact your delegates perception or experience, you are likely to increase the risk of lowering the overall success of your event.
By investing your budget in key areas where complaints and negative feedback are usually focused, you are increasing the potential for delivering a professional event.
Here are the main areas which cannot afford to be compromised for sake of saving a few pennies and so should be where most of your budget is concentrated.
Risk Planning
To ensure a smooth and professional overall conference, planning for every eventuality will help steer further preparations and actions required if a worst-case scenario were to occur. For example, if a key presenter gets held up on the day or is unable to attend, what is your plan B? What would you do in this scenario to ensure it doesn't have a negative impact on your overall event.
Venue
The conference venue is the platform for your event, it sets the scene and the atmosphere. If it's a tired hotel, in need of updating it's unlikely your delegates will sense of professionalism and may affect the whole ambience during the event.
For conferences, choosing a venue which is designed specifically for a conference is the most ideal scenario. It will mean that most, if not all of what you require will be available - from suitable networking areas to AV equipment.
Registration
As the registration area and process is one of the first things your delegates will experience, it can be a good idea to invest in making it as professional and as seamless as possible.
To increase the professionalism, rather than opting for plain lanyards or standard badges, you could invest in personalised lanyards or ID card printers to provide those subtle but effective quality touches which not only ooze professionalism but serve a functional purpose.
 
Delegate Giveaways
Providing each delegate with their own conference goodie bag can be a great way to add value. Invest in branded bags which are useable outside of the conference – also as an added bonus, remember when they use your bag in future, they will be promoting your brand.
Choose a range of contents which are practical, useful and where appropriate something that is a bit of fun. However, make wise choices – a whistle might seem like a great option until hundreds of people are blowing them at the same time!
Materials
Whilst it may be tempting to opt for budget or basic design or printing for your conference materials, spending that little bit extra to ensure any materials are both functional and attractive is imperative.
Providing a conference brochure or programme is essential to enable your delegates to have instant access to what is happening when. Even if you have a conference app or other ways of displaying this information, there will be some who just want information to hand. It will also reduce pressure on your resource team as should bring down the number of questions or enquires!
Therefore, making your essential conference information as accessible as possible will help provide a smooth experience for your conference delegates.
Branding Props and Backdrops
One thing delegates love is a good photo opportunity! When at a conference, they love nothing more than to pose with branded props or in front of branded backdrops. Spending some budget on these items will be well worth the investment as it elevates the professionalism of your conference both to the delegates and to the audience viewing the shared photos.
Photographer
Hiring a professional photographer will only add an even higher level of professionalism to your event, as your delegates will appreciate the chance for a quality snap with their colleagues or friends on your classy backdrop.
Catering
The quality or lack thereof will be something that will get your delegates talking either way! Make sure what's got them talking is how delicious the food is not how disgraceful it is! You will likely get a range of menu options – choose middle to high-end cost per head, rather than the lowest price per person.
Furthermore, it can be easy to forget about the minority delegates with specific dietary requirement, so be sure they can also benefit from the same high quality.
Keynote Speakers
Choosing to hire a professional keynote speaker from a reputable speakers' bureau will add to the overall attraction and successful delivery of your conference.  Opting for free presenters or speakers does bring down the wow factor and increases the risk of failure. After all the content is the key to your conference, no?
Technology
Ensuring your conference is trendy and keeping up with the modern world, providing the highest quality technology and advancements will only add great value and professionalism to your conference. From conference networking apps to interactive screens and live streaming – all will go down well with your delegates. In fact, you really can't go overboard in this area as long as the technology serves a function and adds experiential benefit.
Similar Articles
Ask any professional across the world and industries, and they will all tell you the same thing about meetings: They are essential but also very time-consuming. Given the fact that no matter how people may feel about meetings, they continue to serve purposes across companies of all scale and sizes, companies, of course, conduct many meetings
As you probably know, business owners often have a super hectic timetable and little time to spen
All large hotels offer several facilities over and above simple rooms for accommodation.