Top Tips for Moving House with Kids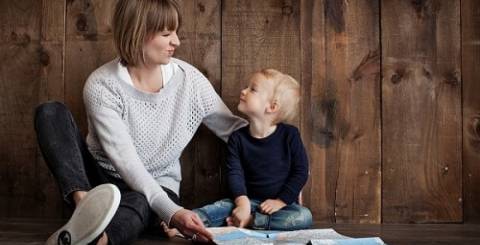 Moving house is widely known to cause a lot of anxiety to what is already a stressful situation. Here are some helpful tips that can make moving day with kids in tow slightly easier on everyone.
Tell the family as early as possible
The sooner children know about the upcoming upheaval the better. Call a family meeting where you can discuss the situation in an area that is comfortable and familiar for the kids, maybe even over their favourite meal. Explain to them the reasons why you are moving, whether it's because of a promotion or new job, or because you've found a nicer place to live in, making sure you emphasise all the positives. Encourage the kids to express any feelings and concerns, the sooner you get them involved in the process the smoother the transition will be for them.
Familiarise yourself with your new neighbourhood
You can quickly turn hesitations into excitement by showing the kids as much as possible about their new neighbourhood. Go online and look up what parks and other recreational activities are on offer in their area. Encourage the kids to do their own research on local community and school websites and they'll be able to find community organisations and groups, school events, and other activities that they can get excited about. Tell them about all the positive things on offer in the new area but also make sure not to over-sell as this can lead to disappointment in the future and cause a harder time settling in for the kids.
Have a spring clean
Let the kids know that moving house is a great time to de-clutter and have a spring clean of everything you own. Throughout the house, there's bound to be many items that you no longer use and don't need to get moved to your new home. Getting the kids involved and turning it into a fun project for them can be an effective way to get them excited about moving and will also make the job a lot quicker. Make it clear not to throw out everything but items such as clothes, toys and electronics that are no longer used but still in good nick can either be sold or donated to a local charity shop.
Accept help from your family and friends
Everyone knows that moving house can be a hugely stressful event, so when people around you offer their help, say yes! Just a bit of help with things such cleaning, shifting boxes and taking the kids off your hands for just a few hours can make a world of difference to your stress levels and the job at hand. Accepting these helping hands mean that you won't be as stressed and therefore less likely to get annoyed at the kids and take out your anxieties on them.
Get the help of a professional removals company
Packing up your house and moving all your belongings to another location whilst also trying to manage the kids' behaviour and keep them entertained can seem a near impossible task when facing it alone. Therefore, we recommend enlisting some professional help. John Ryan Removals can do all the heavy lifting and moving, meaning you will have more time to focus on your family and help the kids adjust to their new home. John Ryan Removals can also assist with cleaning the home you're moving out of, or the home you're moving in to, as well as arrange short and lon-term storage.
If you need assistance with your move, contact a reputable relocations company.