Top Five Tips to Become a Better Tennis Player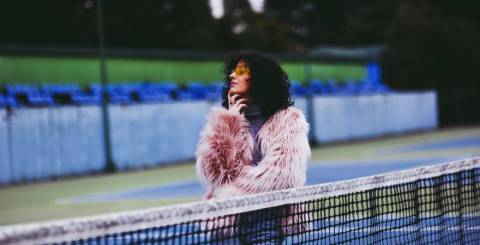 If you are a professional tennis player, chances are that you will be having access to an entire team who are looking to give you an edge in your skills, fitness as well as psychologically. However, if you are an amateur, what are the ways you can give yourself a boost to improve your game?
Footwork – being at the right place at the right time
They say in life luck plays an important role. Some call it being at the right place at the right time. However, in tennis, being at the right place at the right time depends on how good your footwork is. There are various ways to improve your footwork. First and foremost, your footwork depends on your general fitness along with your stamina. Apart from that, there are a few exercises that can improve your footwork like practicing sideways running. Once you have enhanced your footwork half the battle has been won in your quest to win points. Now, let us see how we can impart greater topspin to a ball.
Wrist strength – key to generating topspin on the ball
The more topspin you impart on the ball, the harder it becomes for your opponent to hit it for a winner. To impart topspin to the ball at great pace, your wrists need to become sturdier as well as more supple. There are a few exercises and techniques, including weights, that can make your wrists more sturdy. This will improve the quality of your topspin and help to keep you in the game longer against superior opponents. How can one develop his/her game further?
Hit the ball earlier
This depends in part on your footwork. Once, you have improved your footwork you still have to have the reflexes to take the ball early and hit it on the up. The earlier you spot the ball, the earlier you get into position to hit it. The better your chances get of returning a ball that your opponent has hit for a potential winner. Also, in case the ball gets returned short by your opponent the greater your chances of hitting it for a winner. To develop your reflexes it is important to improve your net skills and practice returning balls at the net that have been hit with greater force. How can improving your net skills help you win more points?
Improve your net skills
Most players depend on groundstrokes to both defend and win a point. Unless you are a regular grasscourt player chances are you also rely solely on groundstrokes to win points. However, developing your net skills can help to add another weapon to your armoury in winning points. Against inferior opponents you can use your net play to shorten the point and move in for the kill faster. Against a superior opponent who clearly has an edge against you, moving to the net after hitting a decent groundstroke can put pressure on your opponent to either lob you or hit a winner. This will increase the chances that your opponent makes an unforced error. Your overall game may get that killer edge if you develop your net play. What other ways can you develop your play?
Add variety to your serve
Your serve can be the weapon that can make the difference between winning and losing a match. There are players who essentially have two second serves in that their first serve is just good enough to start the point. Apart from power, placement can make all the difference in turning the point your way. The legend Pete Sampras' coach Tim Gullikson used to ask Sampras to hit his serve to the backhand or the forehand of the opponent only once he had tossed the ball up. This way the opponent is left guessing until the last moment as to where the ball is about to come. Chances are that unless he/she is Andre Agassi the serve is either a winner or at least it elicits a response from the returner that can be easily hit for a winner.
These are five tips that can help make you better tennis player that may give you bragging rights with your colleagues or your club mates. Hope this helps you win more tournaments!