Top 5 Reception Management Ideas for Your Business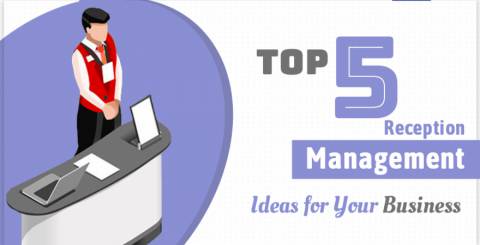 Your company's reception area can give visitors and customers a good idea about your business approach and philosophy. Are your practices careless, and disorganized without any attention to details? Or, do you wish to create the image of a trend creator that adopts cutting edge technology? Do you prioritize customer service and place consumer needs first?
The answers to the above questions can be found by analyzing how your business manages its reception area. The lobby is a physical space whose atmosphere directly shows your firm's values, from staff friendliness to environment serenity. Regardless of whether your business is an advertising company, doctor's office, or financial institution, you should devote as much care and thought to spruce up your lobby area as you do about your website design, support, and services. 
In this article, we provide 5 effective reception management tips to make your lobby more friendly and welcoming to visitors and customers:
1.Install a Reception Management System 
Don't make your clients sign paper logs when they visit your firm. Invest in a lobby management system to simplify visitor processing and save time for both your staff and the guests. A visitor check-in system can facilitate digital reception and also help your company adhere to data privacy and security regulations. 
The reception management system registers visitors with a simple tap on a tablet and instantly notifies the host about the guest's arrival. The entire process is fast and user-friendly as the lobby management system automates visitor processing and helps your enterprise get rid of inefficient and unsafe guest logbooks. 
2. Use Advanced Technology 
Utilize technological systems and devices to create a modern impression about your enterprise and tell your visitors and customers that it is forward-looking and sophisticated. For instance, you can use a digital image screen on the reception wall that displays peaceful photos. Or you could use this device to educate consumers about your company as they wait and provide them incentives to make purchases. 
Provide tablets to customers to check-in and offer details about themselves. They can sign up for your email newsletters and promotions, and also peruse your products. Present charging stations that visitors can use to recharge their devices as they wait to tell your customers your business cares about their needs. 
In addition, you can also show wait times. Research reveals that customers will be less frustrated about reception lines if they know how long they need to wait. To speed up guest and customer management and save valuable time, invest in a smart visitor check-in system.  
3. Keep the Place Tidy 
Make sure your reception area is free from unsightly stains, sticky floors, and foul smells. A hygienic and fresh lobby area creates the impression of a detail-oriented and organized business that cares about the safety and health of its visitors and customers. Disinfect common areas to prevent the spreading of germs and utilize air fresheners with soothing scents to make nostrils happy. In high-traffic places, use durable flooring and furniture that is easy to clean. Place recycling bins and wastebaskets to help visitors maintain sanitation. 
4. Cater to Your Audience 
Add personal touches to make your reception area more pleasurable. Place reading materials and books about your industry and keep tablets and magazines in stylish organizers. For children, you can create a playing area where they can relax. In this space, use toys that are easy to store and manage. Further, for elderly and special-needs visitors, ensure the furniture is comfortable to sit on. 
Match your reception décor to your brand and customers. Utilize funky decorations and bright colors to showcase your brand's personality. Use brand-oriented touches in design and artwork. For instance, digital marketing agencies specializing in athletes and sports management can include relevant amenities like a foosball or pool table. 
5. Spread Happiness 
Provide a positive and friendly atmosphere where your customers can comfortably conduct their business dealings. Your front desk employees should be trained to smile, address consumers by their names, and utilize warm eye contact to create a feeling of support and trust. In addition, you can place cordial and even funny messages in the reception area to make your visitors and customers feel at home. 
Train your lobby staff to eliminate negative chatter and standoffishness, and be approachable and welcoming. Plus, your employees should avoid discussing company business in the reception area to assure customers that your firm keeps its dealings with them confidential and secure. You can also provide free goodies such as mints or product samples at the lobby desk to produce a positive sentiment. 
Your lobby area plays an important role in creating your brand impression and image so you need to ensure it is warm and friendly to make customers return to your premises for more transactions and purchases.