Take the Lead! Promising B2B Lead Generation Strategies Right From Your Business Website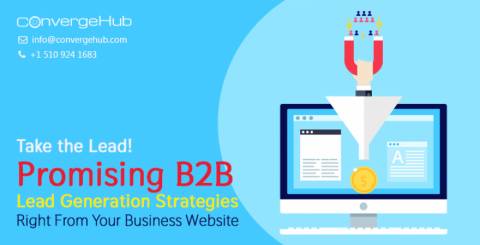 We all know that a website creates those first few valuable impressions on potential customers in any business. This is because a business website is the heart of any digital marketing activities and also the key touchpoint for any business to start a conversation with its audience in the marketplace. 
Hence most B2B marketers suggest getting leads from this essential online marketing channel.
In fact, in today's hyper-dynamic business environment it is important to stay abreast regarding ways for applying the latest lead generation strategies and tools on your business websites. 
Are you wondering how it all works?
Well, for those who are still not aware of what is lead generation here some practical, productive, and unique way to turn around your business website into a lead generation powerhouse that can bring in new prospects and help businesses to find revenue growth.
Integrate a Personalized Chatbot
As one of the most popular vendors of Salesforce Alternative CRM tools, we have observed that an automated live chat system whereby a Chatbot is made to interact in real-time with the site visitors and answer their questions, especially an AI-based system that comes with several features can easily convert visitors into leads since:
Chatbots can interact with visitors 24*7
Create audience segmentation based on user data
Create personalized experiences for the visitors by tracking their preferences
Does away with waiting time by offering quick solutions
Engages visitors in real-time by replacing traditional lead forms
Setup a Callback System
According to a study published by New Voice Media, it states that more than 75 percent of consumers today say that a phone call is the quickest way to get a response.
Hence once B2B brands uses a call back system integrated into their easy to use CRM tool, it can provide the users with an opportunity to get into a conversation with the company's sales representatives. 
Moreover, another useful strategy that businesses are applying nowadays is adding a Click-To-Call button on their business websites which allows the users an easy and quick way to call up and speak to the company's representatives.
Implement an Automated Lead Generation System
There are several businesses that nowadays use automated lead generation systems which can track a site visitor's contact and company details, and use tools that keep tabs on first-time and repeat visitors by integrating it with business CRM software solutions that keep populating it with new contacts. 
In the next step once the new leads have been generated companies must do a bulk outreach to understand more about their site visitors and thereafter add them to their marketing qualified lead's pipeline.
Here are a few ways and useful tips for doing bulk outreach to your prospective customers:
Send surveys to understand your lead's present preferences and challenges faced by your prospective customers.
Keep your subject lines in the emails simple, a good approach is to be consultative and not hard-sell your offerings. 
While the best days are Tuesdays and Thursdays, the 5th, 7th, and 12th of any month are the top days for scheduling your email marketing campaigns. 
Use Text Messages for Recovering Abandoned Carts
This lead generation technique more than B2B businesses works well for e-commerce stores, whereby you can send a simple text message to recover abandoned carts on your e-commerce website, which can motivate and remind site visitors to come back and complete their purchases. 
Here are some great tips to run abandoned cart retrieval SMS campaigns:
Use a relevant and powerful CTA (Call-To-Action) that can encourage the users to sign up.
Ensure sending a follow-up message immediately, right after the shopping cart has been abandoned.
Embed a link in the SMS to help the prospects complete their purchase.
Continue sending a series of reminder messages at preset regular intervals.
Run Interactive Content Campaigns
Modern marketers nowadays use a variety of content formats that includes games, quizzes, polls, contests, assessments, and interactive tools.
For example, we know of a healthcare insurance company that targeted middle-aged men, by creating a quiz called "Are you a fit and healthy Father?"
This quiz not only helped the audience to understand their present level of fitness but it also thereafter helped the company to suggested a personalized solution based on the user's answers and lastly encouraged the participants to sign-up to a compelling health insurance plan.
Optimize Landing Pages
To boost website signups there also several optimization techniques that can improve lead generation, whereby just apart from making a landing page simply visually appealing, marketers can also make little changes to make it easy for the visitors to sign up for a newsletter or any other services.
For instance, there are many businesses that make use of social media signups nowadays to simplify user experience and expedite their registration processes. In fact, there are many brands that intentionally keep their landing pages clean and only let the users see the full contact form after they choose to sign up with their emails. 
Publish Audience-Centric Content
According to a report published by Databox, it has been found that content marketing is one of the most reliable channels for B2B lead generation strategies. 
Hence once businesses in the B2B marketplace consistently produce educational contents it has been observed that delivering audience-centric content is a powerful lead generation strategy that can get brands 50 percent higher conversion rates, once they remain persistent with their efforts. 
Create an Introductory Video
Creating an introductory video for your brand and its offerings is a great way to tell your brand's story and get the users hooked, whereby the best place to add such a video is the homepage of your B2B website. 
We say this because most videos tell the audience about the larger purpose of a business or even help to provide an idea of the key features and advantages of using their offerings. 
Hence add a distinct CTA at the end of your introductory video and start collecting the leads. 
Conclusion
In modern times, digitally conscious online users have the power to perform ample research before they make any purchase since nowadays consumers have become far more active at finding and getting the right products and services compared to what it was ever before. 
Therefore, once you know what is lead generation and the benefits associated with this activity, it is best to switch from traditional lead generation methods like cold calling and advertising and instead use your website which is an essential channel to offer your prospective visitors some great information and experience by wooing your visitors with innovations as we mentioned in this write-up and let you remain in the right track for finding consistent revenue growth.