Outdoor Wedding Ideas Which Will Take Your Breath Away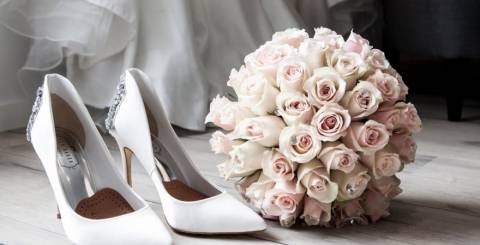 We've been looking forward to spring for so long, that we can't wait to spend as much time outside as possible. This is one of the reasons why during spring, summer, an even fall, we see a steady growth in the number of couples who want to get married outdoors. Not only does this mean that photos are going to be magnificent, but it also contributes to the overall fairytale-ish atmosphere. If you're thinking about having an outdoor wedding yourself, we'll try to help by giving you a few breathtaking ideas. 
Appropriate footwear
No matter if you're planning to have your wedding on a beach or in a garden, you should give your guests a heads up so they know what to wear. Footwear is also often an issue, especially with girls who want to wear their favorite heels but worry that they'll ruin them by walking on grass. Include a little note on your wedding invitation to informing them that it will be an outdoor wedding. As a good host, you could also buy a bunch of heel protectors (yes, they do exist) and offer them to your guests as they come. Not only will it save their shoes, but it will also make them steadier on their feet too. 
Flowers, flowers everywhere
Flowers are the best because even though they are very simple, they manage to dress up any occasion. What is more, they don't even have to be exotic or expensive – baby's breath and sunflowers look beautiful and don't cost a fortune either. Even simple twigs and branches with some twinkling lights will make any table look more inviting. Floating flowers are also a great choice, especially if there's a pond, pool, or a fountain at your venue. By adding tea lights or floating candles to the mix, you will create a romantic atmosphere in an instant. 
Sun-kissed
Outdoor weddings are beautiful, but they also carry a certain amount of risk – you never know whether it's going to rain or if it's going to be too hot. You can rent a clear marquee to ensure that your guests stay dry and protected from the sun. Still, if renting an entire marquee is a bit too much, you can also try getting one of Oztech Awning freestanding retractable pergolas instead. This move will ensure that your wedding will be perfect come rain, hail, or shine and that all your guests will be safe. If you're expecting a bright, sunny day, you could provide your guests with cooling face mist and some wet towelettes too. 

Setting the mood
If your wedding is going to be in the evening (saying 'I do' in the sunset is incredibly romantic), you could set the mood for the reception by adding soft lights everywhere. Lighting candles on tables is a good move, as is wrapping twinkling lights around centerpieces. Small candles placed around in lace- or burlap-wrapped mason jars is an easy way to make the atmosphere more romantic, simple fairy lights in bushes and flower beds will turn the place into a fairy tale. 
Ceremony arch
One of the best things about having an outdoor wedding is being able to choose the focal point for your nuptials. This is usually a ceremony arch where you will exchange vows, and you can really make this simple item into something magical. The muslin and silk ribbons around the arch, decorate it with roses dipped in glitter, twinkling fairy lights, sunflowers and roses, and even strings of faux pearls and shiny crystals. No matter what you choose to decorate the arch with, you don't have to worry about it being over-the-top because it will look great on photos and it's going to mark the spot where the two of you began life as a married couple. 
Useful favors
Wedding favors are a chance to do something nice for your guests. If it's going to be a hot day with plenty of sun, you can offer them sunglasses or fans made of your wedding programs. Wedding favors that double as décor are also a good idea: you can have guests create their own flower arrangement before leaving. Flower market with freshly-cut roses, peonies or even daisies. Individual insect repellents are also great ideas as well as parasols.
Garden bar
Outdoor wedding offer many opportunities for improvisation and wedding bar is certainly something that could be improved. Standard rectangular tables with bartenders are pretty boring, so you could spice things up a bit. Besides having plenty of great flavors, you should make sure it looks good too. display fresh fruit around, keep bottles of champagne in buckets filled with ice, keep some of the drinks in their boxes so the tables can be organized better, and you could also put fresh mint in ice cubes for mojitos. Another great idea is to have a lemonade stand, especially if your wedding is going to be in summer because people will enjoy this simple drink which will also cool them down. 
In the end, it doesn't matter if your wedding reception is outside or indoors, because there are many creative and wonderful ways to decorate any space and personalize it so that it reflects both you and your future spouse. Allow yourself to be creative and express yourself freely. After all, this day is all about the two of you and you should celebrate your love however you want.