Keep the Proposal Simple and Sincere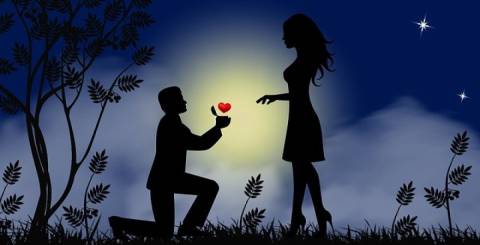 You already saw different online videos on how people propose to their partners. They came up with creative ways to pop the question. Some were way over the top and even involved others. You might feel like topping whatever you find online. The truth is that there's no need for the proposal to be too gimmicky. You can keep things simple and traditional. As long as you're sincere in asking her, it's good enough. Let's have a look at some of the valuable tips.
Find the right place
The first thing you have to consider is where you will ask the question. Find a meaningful place. If you can go back to the first place where you met each other, it would be great. You can also go on a joy ride and visit different places that meant a lot for your relationship.
Keep it private
Some men decided to propose through a mob dance. Others did it in the cinema while watching a movie. These are grand gestures and probably fit for their relationships. However, there's no need for you to follow the same path. Just because others took that road doesn't mean you will do the same. Besides, if you involve the public, you're only placing your partner in a terrible position. She will find it hard to say no if many people are looking at her. You want her to have the chance to think about the decision. The proposal is already a question that puts her on the spot. Doing it in front of the public will only worsen the situation.
Look for a simple, but a suitable ring
The engagement ring is also part of the highlights. Take your time to find one that looks great on her. If it's suitable for her personality, it's even better. Some people decide to buy a ring with the biggest stone out there, but not all women appreciate it. They will even find it awkward and inappropriate to wear that ring daily. Find one that fits her, and she will feel comfortable using it. Those who want to buy diamonds usually check out Willyou.net locations. Again, it's how the ring suits her personality that matters.
Prepare what to say
You still have to convince your partner to marry you. Don't be too confident that she will say yes. Prepare your speech and ensure that it came from the heart. You can't write everything since you should also be spontaneous. Otherwise, it will look too rehearsed. You're only writing your ideas because you might forget important things.
Talk about why you're perfect for each other
Again, the proposal is about winning her over. You can't just pop the question out of nowhere. Lay the foundation first and allow her to be in the mood to say yes. When she realized how much you love her, she will probably say yes.
Celebrate and cherish the moment
Engagements should be a private moment. After your girlfriend says yes, you don't even need to do anything. Stay in the same place and enjoy each other's company. You can think about your past or look forward to your future. Don't talk about wedding details yet. There are other opportunities to think about them. For now, celebrate your engagement and be grateful for the relationship.
Invite others to celebrate with you
Once she already said yes, you could inform your family and friends about it. It's the only appropriate time to let them know. You can even organize a party if you want to. By then, she already said yes. There won't be an awkward moment anymore.