The No Nonsense Explanation of a Damp Proof Membrane and When It Is Needed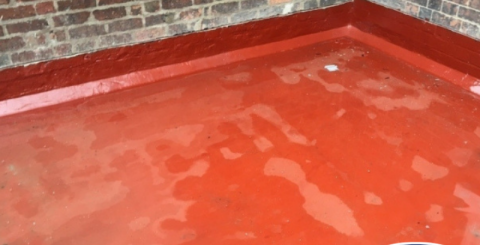 Damp in buildings including homes and offices can cause serious problems such as damp patches, mould growth, frost damage and other things that no one wants to have to deal with. Some of the most common causes for recurring episodes of damp in buildings are surface condensation and condensation that occurs within the fabric of a building's construction.
Dealing with persistent damp can be time-consuming, frustrating and often costly but to prevent damp from getting into insulation, there's a solution.
What is a damp-proof membrane?
A damp proof membrane is a moisture restricting waterproofing solution that is used in construction and is designed to stop moisture transference.
The material/application is often applied to floors walls and roofs to stop moisture entering interior spaces.
When applied to floors it is used to create a barrier between the bottom-most layer of the floor, otherwise known as the subfloor, and the wood, laminate, carpet or ceramic that will lay on top. The damp proof membrane is a thick sheet of high-density polythene material, which is usually applied under the concrete slab to prevent the concrete from obtaining moisture.
A damp proof membrane can also be fixed to internal walls to create damp-proof walls and is also advisable for roofs. The material is completely resistant to moisture and salts and is also flexible so that it can cope with structural movement making the damp proofing last for a significant amount of time.
The installation process is very important as an extreme amount of care must be taken to make sure that no holes or tears are produced in the sheet and that there is enough of an overlap of the sheets if more than one sheet is needed.
When is a damp-proof membrane needed?
Architects, engineers and contractors may be required to use a damp proof membrane when using a certain type of insulation material. Damp can work its way into insulation especially material such as mineral wool and cellulose and in this case, a damp proof membrane can be essential to protecting the insulation. Structures that are constructed with timber should be protected with a damp proof membrane to prevent it against rot and mould.
Damp-proof membranes are also a great idea to apply to poorly ventilated kitchens and bathrooms within your house in order to reduce the build-up of damp.
Damp-proofing is essential for all structures to ensure that your walls resist moisture hazards so that your family can stay safe and healthy. A build-up of condensation within walls will cause mildew and bacteria to grow, this is when it can become a health concern.
Damp-proofing will help to eliminate this problem and mean that everyone within the building will be safe and sound.
Types of damp-proof membranes
Sheet applied systems
These are self-adhesive sheets that are applied to the dedicated area to prevent the transfer of water and water vapour. DPM Red is an example of a sheet applied damp proof membrane. It's a three-layer, low-density polyethylene sheet with a polypropylene reinforcing grid. This type of damp proof membrane is often used for basement tanking, wet rooms and for gas barriers.
Liquid applied systems
Liquid waterproofing is another effective way of damp proofing, the liquid membrane acts as a waterproof coating preventing water and water vapour from entering the structure. Flexiseal Pro is an example of a fully bonded waterproof coating that provides a durable barrier to water. These kinds of applications are best used for basement tanking, damp proofing, plant rooms, podium decks, and radon protection.
Other types of waterproofing solutions include Watertight Concrete, Sodium Bentonite Systems, and Cement-Based Systems.