My Story of My First Time in Singapore Flyer
Sometimes, even puking is worth it!
So here is the deal, I despise photography, until and unless it is a selfie where I get to look at my bearded well-chiseled face. Therefore, you won't find any pictures of my enjoyment in the flyer, you would, however, find the picture of the second largest giant wheel in the world.
What started out as a two day leave from my office turned into a trip that I could never forget! So here is the deal, I finally was able to accrue one day of a holiday so that I could visit the place I have heard so much about, the Singapore Flyer.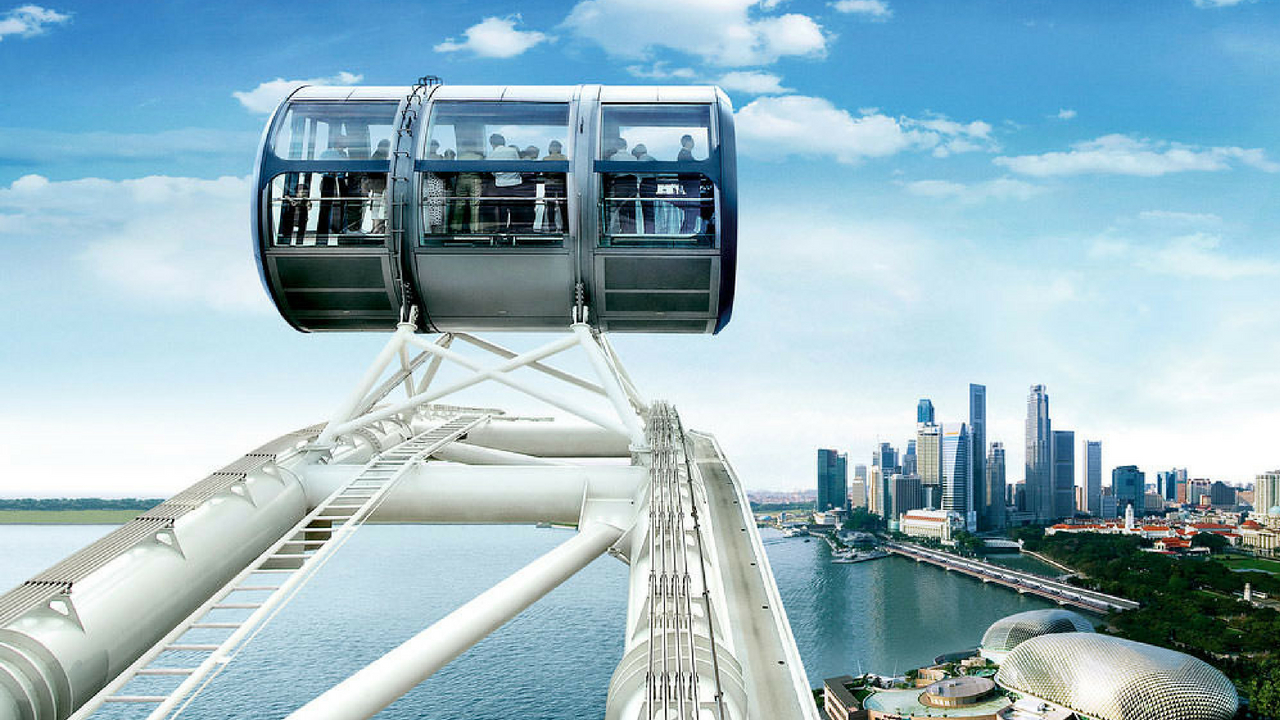 Now, Singapore flyer is a place that I have heard a lot about-It has amazing cabins that are fit for the couples to romance or have romantic dinners. Its views are serene, the cabin is spacious and the view from the height would allow you to see entire Indonesia. OK! The last part is definitely an exaggeration but stills scary for an acrophobic guy like me, my weight doesn't help either.
So, when the time came, you can already guess that I was NOT looking forward to this trip. However, it was an experience that my therapist suggested so, I went.
Once I dropped at the Singapore airport, I went straight to the hotel. Being jetlagged and queasy was perfect for me, for at least I was not dreading to go for the flyer at the moment.
The next day they came and the trip began. It was 9 O' Clock and I took a taxi and went straight to the Singapore Flyer.  I was completely awestruck at how beautiful that place was.  Once I entered through the gate, there was a still a bit of distance that I had to walk before I reached the actual flyer. Even from a distance, that thing looked way too big than it should be. The closer I got, the more I felt that I could vomit by just imagining what I would feel once I reach to the top. So, I thought to myself "I am DEFINITELY GONNA come back later" and then, I "ran" back to the exit and left the place.
I stayed at home almost all day and once it was 9:00 pm, I gathered all of the minuscule courage I have and went back there again.
At night, the scene was amazing. However, the queue of people that were before me consisted of well-dressed couples only, while I was wearing jeans and t-shirt with an over-shirt. Who cares about all that, considering my turn came to get inside the cabin soon. Once I got inside the cabin, I was happy that it was spacious and seating arrangement was great. Three couples entered right beside me and while they were quacking with the excitement of reaching above soon, I felt that I was about to pee my pants.  
We were reaching above and above and the surrounding buildings were getting smaller with every second. Soon, we were enough high to be able to see the amazing jewels of the city lights. There were lights EVERYWHERE! I was happiest for a few minutes and then my acrophobia kicked in and had a mini panic attack. The "mini" part comes because I was really afraid to get embarrassed in front of all the couples. It was then that I remembered,
'It takes 30 minutes to complete one revolution'
I was at the top and had about 1.5 revolutions more to go. So, I relaxed for a bit and saw everything around me. Couples were amazed at the sights, some were more concerned with the sights than each other and some were, well some were ONLY concerned with each other. Our cabin was finally down and I paced myself for the second rotation.
The experience of the second rotation was totally different than the first. It is not that I got used to the dizziness, it is just that I started to enjoy everything. The scene was complemented by the amazing dinner that I had. It was scrumptious and amazing.
Why did I have to eat?
The ride finally stopped when our cabin was at the bottom. It was at this point that I started feeling way too queasy and threw up.
But I still remember the amazing scenes and even puking was worth the trip.