Let Love Flow into Your Life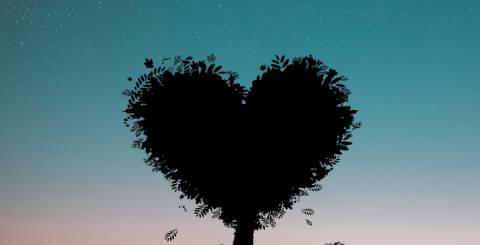 Life is boring and lifeless without love which is the element that adds colour to our life. How much riches, pleasures&passions, ambitions, friends, near and dear are present in our lives, it seems worthless in the absence of that one person, who loves you and becomes your partner till the end. Loneliness is like a curse which aches our body and heart.
People who are single and in relationships complain about the lack of love in their life as if some stranger or lover drew the love out of their lives and vanished since eternity. With hope and desperation, people like to dream about a person who is like that knight in the shining armour who comes to protect the damsel in distress. They search for love outside their hearts and waits for the change of everything, they are not able to give themselves.
Relationships can be bad and they are like a prison. Those people who constantly try to survive that relationship are hosts to that prison, living in fear and anger every day and don't have any clue how to get out of it.
Are you a prisoner of that cage or are you the lonely traveller in life, feeling and waiting for your prince charming to show up one day and end all your miseries? Maybe that may not happen but it is good to know that you can do much more to yourself to feel loved and to love.
Let's enter into the elevator of hope for the building called life…….
Imagine, "life" is like a building of multiple floors and there is an elevator of hope and stairs of struggle and hard work. The building has a cellar, ground floor, the first floor, second floor and so on. Imagine a condition, that once the elevator starts from the cellar to the top floor, the doors are closed and as you go up and down, you can only see the floors but can not enter into any floor other than the cellar. The only way to enter any floor is through stairs.
Picture this building as it is filled with various types of people on different levels. Picture, in your mind, as the cellar contains wicked and bad people like rapists, thieves, harassers, psychos, killers, who ruthlessly beat their spouses and children and the people who live by hurting and torturing others.
On the ground floor, the population is more and here the common people lives. These are the people who undergo life as a duty like robots instead of actually living. For them, every day is a daily routine of getting up, going to work, returning home, watching tv, eating and sleeping. They don't dream, no passion and are stuck in their pathetic lifestyles without any effort to change it. Many of us are glued to the ground floor.
The people living in the cellar and ground floor has the lifestyles created by low energy thoughts like fear, dissatisfaction, scarcity, death, anger, depression, revenge, jealousy, troubles caused by low self-esteem etc. They end up having bad relationships triggered by unhappiness and wrap this by the illusion that this condition is someone else fault. They blame others, do nothing to change their lives and wait for the others to change, for the difference in their life. They can even harm or destroy others by hook or crook in the illusion to have a better life. This type of lifestyle will never give freedom or love.
As you go higher in the building, there is plenty of light, air, lighter life, more friendly, energetic people and more love. The higher the floor, the higher the resonance of love and positiveness.
Think on to which floor you want to move and live in? Decide On which floor you want to live your life. No one wants to be in the cellar by choice and even on the ground floor as well. Let's say in your present condition, you are on the 4th floor with a lousy relationship with your partner, moderate health, low energy etc and you want to be on 15th floor which has a job you like, good health and good shape of your body, wealth, love, friendships, more caring, love and positive energy etc.  
To reach that 15th floor, would you wait for someone to lift you in their arms and take you to that floor? Most likely this may not happen and if someone comes to take you to that floor, that person may not succeed in carrying you from 4th floor to 15th floor. Do you like to depend on others for the fulfilment of your wishes and desires? What if they fail you in this process and trip you on the stairs. Where will you land?
It should be your decision and your action and the only choice for you is to climb the stairs by your self with passion and hard work. Move yourself up by doing things, learning, changing your thoughts towards hope, optimistic behaviour, letting positive energy to flow in your thinking, learn how to unleash your inner power. Surround yourself with the people who love you and like you. Learn to love yourself. Remember, if you don't love yourself, if you are not able to see positivity in yourself, how can others see that in you and love you. This is the first step to let love enter your life.
Once you have reached the floor of your choice, You will automatically be among the wonderful, loving and caring people who vibrate at this level of energy. People who feel good about themselves, love and respect others. Maybe in that group, you can find your prince/ princess with whom you want to share the rest of your life.
Coming to the people in a bad relationship, If you are in a bad relationship now and you want to move higher for a better life, do whatever it takes to change the situations and move up. Even if you try to pull your partner to your energy level or try to carry that person on your back to that desired level, this fails unless your partner tries from his end to change the situations. If he/she is still resonating on cellar or low levels, they won't be able to follow you in your course and eventually, both of you will take separate roads. Remember, if two persons want to move forward in their lives together with love, they both should try and struggle to keep up the journey. No journey will ever reach the destination if they go in opposite directions.
At some point in our lives, we should decide on our selves and go for it, and see what happens. Work hard for your dreams, passions, desires, climb high in positive terms and see how your life will be and how the air of love will breeze into your life.
All you need to do is let love flow into your life. Life is beautiful, Love is wonderful and make it colourful!