How To Deal With Feeling Lost After College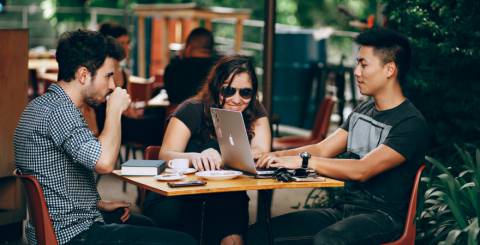 If you are like a lost of recent college graduates, much of your life has been laid out for you so far. You likely went to your primary education with the goal of getting into a good college. Then, you went to college and studied for a career. Now, you are out of college and feeling lost because life as a recent graduate isn't so organized. It is now up to you to decide what you want to do.
Take a Deep Breath and Relax
First and foremost, take a moment to relax a little. It is true that your life is now yours to define. You have a lot more freedom and a lot more responsibility than you likely had earlier in your life. That is okay and doesn't need to be a source of stress.
Consider trying some mindfulness exercises to get your thoughts together. This is a good way to clear your mind a little and get organized. One of the great advantages of life after college is that you have the time to make decisions for yourself.
Find the Right Path for You
It is time to start planning a little ahead. Spend some time figuring out which steps forward you want to take. You may consider taking a gap year after college. This is a great way to invest time and energy into figuring things out for yourself. Rather than focusing on your education and career, you can spend some time on yourself. That is a valuable investment for a recent graduate.
Alternatively, you may want to get started working right away. If you choose this path, start looking for a job. Try to find something that you will enjoy going to every day. Of course, you also need to find something that will help pay the bills.
The good news is that your path isn't locked in forever. If you try something and don't like it, you can always make a course correction. You have your whole life to live, so don't be afraid to explore.
Take Care of Yourself
You need to take care of your wellbeing. There are three main elements to this: physical, mental and lifestyle.
Your physical wellbeing is your bodily health. Eat well, exercise every day and get enough sleep. Making strong habits of these three things will really pay off in life. It is hard to live a happy life if you aren't living a healthy one.
Your mental and emotional wellbeing is about taking care of your mind. Self-care is a huge part of this. Learn how to prioritize your mental wellness. The great news is that taking care of yourself physically helps boost your mental health and vice versa.
Finally, your lifestyle wellness is taking care of your life from a more practical perspective. Learn to manage your time, organize your home and plan your meals. Again, these practical aspects of life help improve your physical and mental health.
Don't Get Too Far Ahead of Yourself
Life can be overwhelming at times. This is especially true at major crossroads such as the time right after graduation. It is easy to get too far ahead of yourself and start worrying about how you'll be ready for a possible life event in 10 years. Take life one step at a time.
One of the nice things about taking things slow is that each step you take makes the one after it a little clearer. So, while you may not know how to plan for that future life event right now, taking a step forward will get you a little closer. This is the best way to approach your life goals.
These tips and ideas will help you deal with that feeling of being lost after college. Don't be afraid to take time for yourself. Doing something like taking a gap year can be a great way to invest in finding your path.