How to Start a Blog: 3 Easy Tips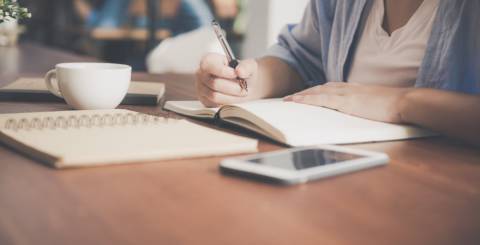 https://www.pexels.com/photo/woman-writing-on-a-notebook-beside-teacup-and-tablet-computer-733856/
Bloggers can only guess about the power they have over the internet, and their rise from a mere influencer to a professional. The blog is the bone marrow of your website, even if you are not selling a product or service and just looking forward to building your own name in the digital world. Some of the famous bloggers like Neil Patel started off as an amateur and now he is the king of content.
There are ways in which you can also become a pro in blog marketing plan. Just follow this blog carefully and learn how to start a blog. But first, it is important to learn the important things that are needed when you are on the way of starting a blog on your own.
Important Things You Need to Start a Blog
Cooking up a special Thanksgiving meal and starting a blog is much more similar to one another. There also, you need ingredients to cook the food, and here you need certain aspects without which a blog is nothing. Here are those aspects which are very essential in creating a blog:
Domain: It is very important that you get the right domain for your blog site at first. net and.org are pretty good but nothing compares to .com when it comes to popularity. Having a dot come domain will ensure that your blog site is credible and gains good user experiences.
Site Design: Site Design is perhaps one of the most important aspects of starting your own blog site. The site design will ensure smooth navigation and it will decide how much compatible your blog site is for user engagement.
Graphics: It is evident through many types of research done previously that visuals appeal more to people than any other thing. Therefore it is important that the graphics, images, and videos used in the blog site are attractive and brings more traffic to your blog site.
Now that we are aware of the main things that we all need for the blog marketing plan. Now let us have a look at the essential tips that will tell you to start blogging in just some easy steps.
Tips on How to Start a Blog
Blogs need a lot of planning before they can be executed. Just because blogs are the pillar of content marketing, therefore the process itself depends on a lot of things. Here are some easy steps which will help you to understand blogging better. This guide is for the beginners who are looking forward to doing something with their talent in writing.
Pick a particular niche
You just cannot start writing without thinking about the area of information you are going to complete and the different part of it. Say suppose, you are interested in fashion and makeup, it is important that you first determine that you will only write about fashion and makeup. Now there are many parts of this particular niche which you will have to cover up. Here comes the plan, where you will have to jot down which topics you will write about and how many blogs you want to publish in each year.
Pay attention to your content
There are certain ways in which you are should write content. Remember that your content is for the common people, so do not focus much on your language, instead look forward to being as informative as possible. Write in small paragraphs and make sure that you are grammatically sound. Project your blog in a simple way with bulletins and points to make your readers clearly understand your point. Do not forget to put heading 1, heading 2, and subheadings under it. This makes your blog look more tidy and organized.
Search engine optimization is a must
Search engine optimization will ensure that your content is properly based on the search engine algorithm, so that in can rank in theca search engine results page. Therefore, keywords are the most important part of your blog. Make sure that you put proper and relevant keywords in relevant places. Each article should contain at least 5 focus keywords, 4 secondary keywords and 2 to 3 LSI so that it can rank better in the SERP. However, do not try to stuff keywords because that can ban your blog site from the search engines.
So, these were some tips on how to start a blog. We hope that you will become successful one day with your venture. Remember, that blogging is a long-term investment, so you need to be patient and focused on your work!