Blogging Tools that Every Blogger Should Be Aware Of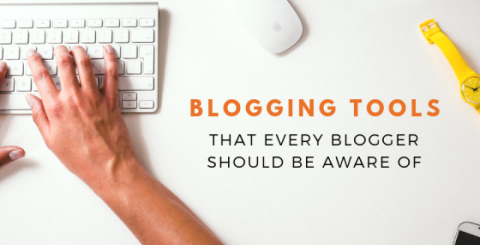 Blogging takes time and dedication. You need to present your target audience with juicy bits of information to keep them coming back for more.
That is why if you have blogging tools at your disposal, you can elevate your blogging abilities and also turn into a productive and efficient blogger. 
Here are some of the best blogging tools in 2019 that you should know if you maintain a blog.
Blog Editors
Here is a list of desktop editors that you can use to edit and improve blog posts after you write them. 
Evernote: You can make quick notes with Evernote on your smartphone. It is available through cloud syncing. 
Open Live Writer: This perhaps is the best desktop editor you'll find for Windows OS. It allows you to publish your blog directly from your desktop. 
Blogo: For Mac users, Blogo is the ideal desktop publishing tool as it supports WordPress. 
Hemingway Editor: This is a fantastic desktop editing tool that allows you to improve your blog post. It is compatible with Mac and Windows OS. 
Content Idea Generation Tools
Don't let writer's block get the better for you. If you are struggling with the content idea, here are some tools that will help you:
Blog Post Title Creator Tools:
It goes without saying that a blog should have an eye-catching title to get readers to click and continue reading. So, here are some blogging tools that will help you create titles that are attractive. 
EVM Tool: This particular tool delves into the emotional marketing value of the blog title. It should have a high EMV score to do well in social media platforms. 
Upworthy Title Generator: This tool helps you generate viral topics for your blog posts. 
Headline Analyzer: Out of all the blog post title creator tools, this one is the best. It has the ability to create unique and fantastic titles for blog posts. 
Keyword Research Tools:
You need to insert the right keywords to ensure search engines can rank your content and you can get organic traffic. So, here are a few indispensable keyword research tools that you should have:
Google Keyword Planner: This keyword research tool is free and easy to use. Just input a term and it will give you a huge list of keywords and LSI keywords along with their rankings. 
LongTailPro: This tool is compatible with Mac and Windows, and it is perfect for those bloggers who don't have too much experience doing keyword research. 
SEMRush: This keyword tool is with a difference. It allows you to find keywords for a website that is ranked. You can use this tool to find long-tail keywords and get ranked more easily for them.
Proofreading Tools
If you have doubts about the content that you have written, these proofreading tools will help to spell check and also ensure grammar is correct. 
Grammarly: This tool is ideal for non-native speakers of English, but can be used by anyone. It not only helps to proofread and make synonym suggestions, but it also helps you to identify passive voice sentences. 
Hemingway App: This is a free web-based tool that you can use to improve your writing and ultimately your blog posts. 
Stock Images for Blogs
Research shows that blogs that have images are more reader-friendly than blogs that do not carry images. Hence, you should always post your content with relevant images. Use the following search tools to find stock images for your posts:
Flickr Advanced Search: It helps to you find images that come with a creative commons license. 
Pixabay: You can download high-quality images for your blog posts and not have to worry about giving credit. 
Google Image Search: You can use this simple and effective tool to find images with the right license. 
These are some of the most valuable blogging tools that you should be using in 2019.
If you find that there are too many tools, you can outsource your blog writing to a qualified and reputable digital marketing agency.
This way, you don't have to have a steep learning curve with the best blogging tools of 2019 and still get the best quality content.