Don't Forget To Pack These 6 Things When Travelling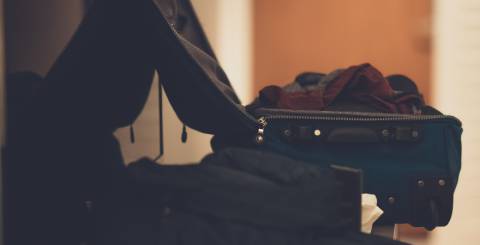 Do you ever go away for a weekend trip and realize halfway there that you forgot that one thing you meant to bring? Whether you are traveling for a weekend getaway or going halfway across the world for several weeks, do not forget to pack these essentials that will make for a smoother trip!
1. Socks
While you can easily replace socks if you forget to bring some, having an extra pair or two with you is always worth it. If your feet get wet or you spend a full day on a plane, being able to change your socks and feel more comfortable is a game-changer. When your feet feel better, your mood will too. When you are bringing socks on your trip, you might as well bring some fun patterned socks or wool socks if it will be cold. If you are going someplace warm you might be tempted to just bring sandals, but having an extra pair of socks might still come in handy if your feet get cold in the car. 
2. Identification
Usually, you do not leave your house without your ID if you are driving or going to school or work, but bringing it when you travel is even more important. If you are taking a flight somewhere it is important to also bring a Passport or whatever identification document is necessary for the journey. 
3. Credit Card
While bringing cash on a trip can help you stick to a budget, bringing along a credit card is super useful. If you forget something essential like socks, you can use your credit card to buy those items you need. In case of an emergency, having a credit card will ensure you can buy medicine, fill up on gas or buy a ticket home sooner than planned without hiccups. 
4. Toothbrush
Even if you forget soap or shampoo, your toothbrush is the most important thing you can bring with you on any journey. When you have your toothbrush, you can brush your teeth in an airport, at a rest stop or at a campground. Basic hygiene starts with clean feet and clean teeth and even if you are on a journey where you do not have access to a regular shower, a toothbrush will make you feel a lot better.
5. Outerwear
When traveling someplace new it is important to be conscious about the weather patterns. Do you need to bring a raincoat? Do you need a winter coat? Do you need a fleece? While small things like t-shirts are easy to buy in new places, outerwear can get expensive, so bringing your own outerwear that is appropriate for the weather will make a huge difference on your trip. 
6. Chargers
Have you ever taken a day trip somewhere and halfway through the day your phone died? In today's world, phones especially are key to getting around a new place. Without GPS, you have to rely on reading a map. Make sure you bring appropriate chargers with you on your travels. Bring a battery pack, too if you have one. If you do not have one, a battery pack is a great investment. 
Packing before a trip can be super stressful. Sometimes, all you want to do is go to bed and forget about going anywhere. Sometimes you feel good about packing and get to your destination only to realize you left your entire bag at home. There are a few things you can do to make packing less stressful. First, make a packing list that is comprehensive of any trip to use every time you have to pack. That way, when you do pack your bags you can vet the list for winter versus summer items and tailor it to your needs. Double-check that you packed everything, but do not triple check. Plan a relaxing evening the day before your trip so you can unwind with a movie or a bubble bath. Happy traveling!