Doges Palace Tourist Guide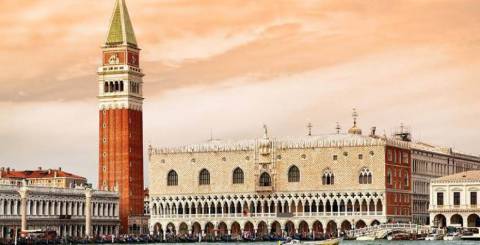 Built in Venetian Gothic style this palace is one of the main landmarks of Venice city. Palace was once the residence of Doge of Venice (supreme authority of former Venice).
You can reach Doge's Palace via public transport which includes Vaporetti and water taxi.
When to go?
Doge's Palace opens throughout the year but it is crowded most in summer because of a high number of visitors from all around the world.
During season time the best time to visit Doge's Palace is in the morning or in the evening just before it shut down.
If you don't want to fight with the crowd and want to run at your own pace then come to Doge's Palace during offseason or in winters.
Address: Piazzetta San Marco, Venice
Timing
8:30 AM - 7:00 PM from April to October
8:30 AM - 5:30 PM from November to March
Entrance
You have to purchase a ticket for accessing Doge's Palace.
If you are visiting Doge's Palace in summers and you don't have an advance booking ticket then be prepare for standing in long queues.
We recommend you to book advance online tickets and skip the long queue lines.
Three types of tickets are available:
1.Full Ticket or Regular Ticket
2.Half Ticket or Reduced Ticket - It is for children between 6 to 14 years, students between 15 to 25 years and senior citizens over 65 years.
3.Free Tickets - Free for citizens of Venice, people with disabilities and member of ICOM (International Council of Museums).
Note: Please check in which ticket slab you fit in before purchasing a ticket and enjoy the benefits.
Tours for Doge's Palace
Guided Tour: To understand the in-depth history of this palace and Venice, you have to book a guided tour. The expert guide will help you to explore the city history through Doge's Palace.
Audio Tour: It will last for 90 minutes and available in multiple languages such as English, Italian, French, German and Spanish.
Guided tour and Audio tour for Doge's Palace also includes skipping the line tickets which help you to enter directly into the Palace.
Inside Doge's Palace
Sala del Maggior Consiglio
Built between 1340 to 1355, this grand council chamber was the seat of the lower house of parliament where citizens came to vote and elect government representative. During that time this hall had to capacity to accommodate 1800 Venetian Citizens for voting.
Much of the painting and artwork by legendary artist like Titian, Pisanello, Giovanni Bellini and Carpaccio was destroyed by fire in 1577. Afterward painting in the new room was done by Tintoretto, Veronese, Jacopo Palma and Francesco Bassano.
Scala d'Oro
Built by Sansovino and named due to rich gold decoration, the Golden Giants Staircase leads from loggia to the second floor and from the second floor to the third floor where you find office and reception. During Republic days, only staff council members and the Doge's guests were allowed to access them.
Sala del Collegio and Sala del Senato
It is a Senate hall and the Doge asked the Senate members to take part in conferences and meeting held here. Until by the 16th century it was the body mainly focusing on political overview and financial affairs in areas such as trade, manufacturing industries, and foreign policy.
In the works by Tintoretto, Christ is clearly seen as the predominant figure and a reference to the Senate 'conclave' which elected the Doge, seen as being under Son of God protection. The room has four paintings by Jacopo Palma il Giovane, which are referring to events of the Venetian history.
Doge's Palace Apartments
Famous for art and decor, these apartments are on the second floor and each doge has furnished his apartment himself.
Reconstruction of these apartments was done in 1510 due to heavy damage from the fire in this portion of the palace in 1483. The base of these apartments forms a prestigious, though not particularly large, residence, given that the apartments nearest the Golden Staircase had a mixed private and public function.
In the private rooms, the Doge could set aside the trappings of office to retire at the end of the day and dine with his family members amidst furnishings which he had brought from his home (and which, at his death, would be promptly stayed until the new doge is elected).