Best Places to Spend New Years in the US
Well, it might be too late now for that – or not, you can always find last-minute affordable tickets – but with New Year's Eve around the corner, we decided to make a post with the best cities to visit for New Year's Eve in the USA. Hey, if not this year, the next one! Grab some of these ideas of the best places to spend new years in the US and start making plans so when next year comes you have everything set to party like it's nineteen ninety ni--- hmm, well, you know what we mean.
 
New York
New York is not only one of the best places to spend New Years in the US; it's one of the best cities to visit for New Years Eve period. Considering the whole world. It's safe to say that NYC disputes with Sydney (Australia) and Rio de Janeiro (Brazil) – and maybe Hong Kong - as the most traditional and sought-after New Years Eve's location. Its unique and famous ball drop countdown gets a million people crammed in Times Square – and they do it happily because it's the only way not to freeze. The celebration at Times Square is such an institution that many Americans, even from other states, tend to "celebrate it" by watching it on TV and using the ball drop as its personal countdown to the new year.
You can say it's a romantic new years eve destination. New York is one of the best cities for singles as it is – if you throw in the cold with people in the streets needing to get "warmer", and all the lovely Christmas decoration still hanging tight in display… the Big Apple makes for an incredibly romantic new years eve destination.
But there's more to it than Times Square if you think it's too passé.  If you choose New York, the ever-growing Brooklyn deserves to be listed as one of the best places to spend new years in the US. With the many less-massive parties going on over there, it can be a nice opportunity to view the fireworks over the East River. Just make sure to arrive early for the best view and, of course, stay warm!
Orlando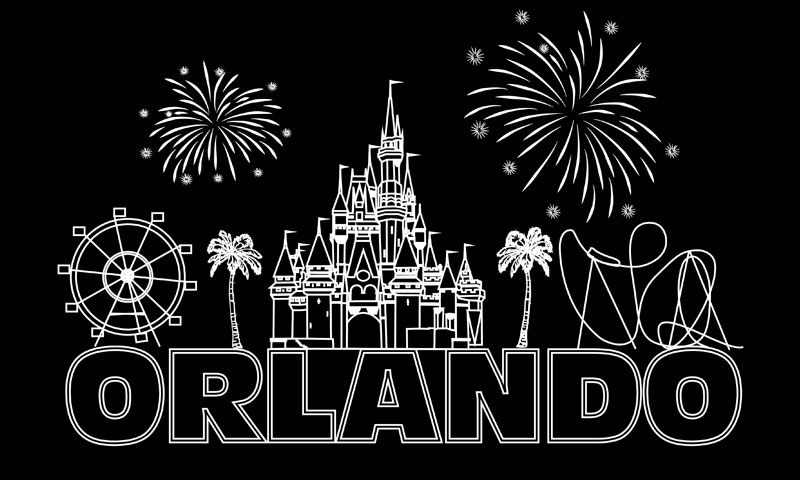 Orlando is one hot city right now. It was featured – sometimes on the premier spot – on several "best of" lists we've done in the recent past. But its presence here in the best places to spend New Years in the US would be granted regardless of this overall great moment that makes Orlando one of the best cities to live in the USA. And that's because of Orlando's vocation to be an entertainment city. Modern Orlando was designed to be a place for festivities and tourist attractions with the world famous Disney and Universal Resorts, so "the theme park capital of the world" is a safe bet for every celebration occasion and New Year's Eve is no exception.
If you want magic and are with kids, head to Disney World and Epcot Center. They have amazing fireworks and lights specially designed for the occasion. If you're single, looking for romantic new years eve destinations to dance and meet people – maybe get a good-luck smooch right when the new year turns – head to Universal Studios for the largest outdoor dance floor, where you'll find some of the most popular acts performing live.
Savvy Orlando Real Estate Agents will point out that for those who are looking for less crowded and competitive attractions – because both Disney and Universal's New Years Eve celebration require you get tickets early on – the Church Street Entertainment District in Downtown Orlando has been increasingly becoming less of a hidden gem and more of a must-go place for New Year's Eve.
New Orleans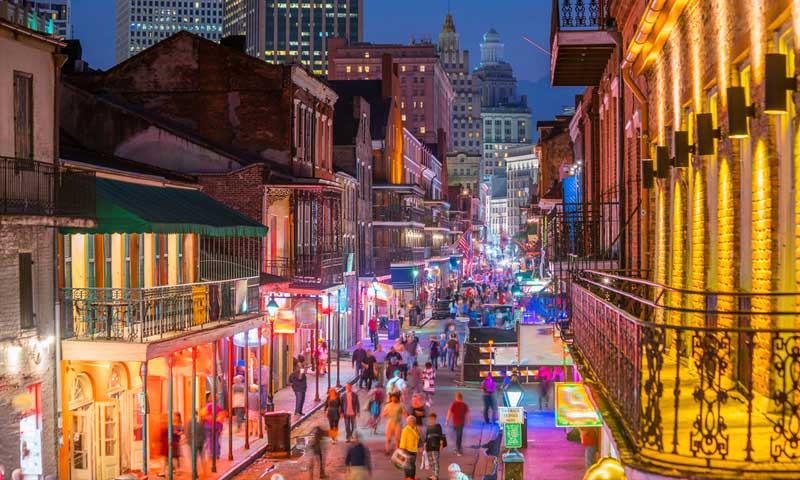 New Orleans is not one of the Best Cities to visit for New Year's Eve; it's one of the best cities to visit for Reveillon. Yes, that's how they call New Year's Eve due to their strong French heritage. But it's one not to be missed.
And it couldn't be different than that, right? New Orleans is one town to party with incredible food and music all year round. The way their "Reveillon" is celebrated is by doing a ball drop just like Times Square, but instead of a ball, it's a "fleur de lis" at the famous Bourbon Street that drops from the top of Jax Brewery when it's midnight signaling a New Year has arrived.
Elsewhere, there are fantastic fireworks at the Mississippi River and the party is sure to be non stop if you can stay conscious with all the bourbons, Creole food and the occasional beads.
Las Vegas
Las Vegas Real Estate Agents can rightfully claim there's much more to Las Vegas than its nightlife but they can't say that it isn't the city's most valuable player.
And if there's one night that could officially claim Las Vegas' "What happens in Vegas, stays in Vegas" motto… that would be New Year's Eve. Yes, Las Vegas makes the best places to spend new years in the US because of how the "live entertainment capital of the world" completely focuses on its new years eve celebrations. The entire Las Vegas strip is closed to traffic, allowing thousands of people to celebrate at a very cool neon-light-heavy setting. At midnight, several casinos launch their fireworks to complement the party. And we're not even talking about the dozens of popular acts that usually make concerts in the casinos throughout the city – if you have the money to pay for those special concerts.
And overall, one of the ideas of New Years Eve is seeing it as a moment of change, right? A New Year brings the hope for better luckier times, so what better place to be than in a Casino? Just hold your horses and don't lose everything you have; play it responsibly!
San Francisco
I mean, look at this picture! For that alone, San Francisco deserved to be closing this list.
San Francisco is one beautiful city and, in a way, it's one of the most low-key about its festivities when it comes to the best places to spend new years in the US. There's nothing major, there aren't thousands of tourists flying over there just because the celebration is amazing – which, in several ways, is actually a great thing. However, San Francisco Agents will say that the great thing about spending New Years there is the fact that you can witness one of the most amazing firework displays between the Ferry Building and the Bay Bridge, all with that amazingly inclusive and warm Bay area vibe.
Don't forget to visit SF's Chinatown as their night lighting for Christmas is gorgeous but don't decide to spend the 31st there. Chinese New Year doesn't coincide with our calendar so you will be very disappointed to notice nothing happens there. Come back in February for an incredible Chinese New Year celebration, though! New Year's Eve is so great; why not celebrate it twice?
Have you ever been to one of those places during New Year's Eve? Do you agree it's one of the best cities to visit for New Year's Eve or not? Have any other suggestion for us to include on the list? Tell us in the comments! And share the article with your friends and family so you can start prepping an unforgettable trip next year!