8 Ways She Tells She Loves You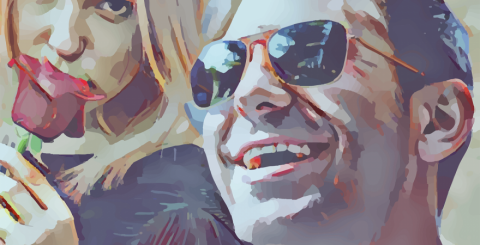 Want to find out she loves your or not? Love is an emotion expressed more through actions and commitment rather than words. When a woman falls in love the feeling is emoted through her gestures and body language. As for to find out woman, whom you love, loves you too, here are some signs that you must look for.
Shy Behavior
It is quite common to have butterflies in stomach while being around the person you love. Women are more sensible and handle such a situation differently.
When a woman is in love with a person, then shyness would rule her overall personality. Her feminine qualities would enhance, especially when she is around that special one. From perfect body posture to shy gestures, she would express her deep feelings in that special way. The shyness would accompany when making an eye contact to that special one or even while a simple smile. This is one of her unique ways to tell she is in love with you!
Showering Presents Without Occasion
It's not your birthday, but still she has gifted you a shirt of your favorite color!
You haven't got that promotion, but still she has cooked your favorite meal!
Every time you meet her, she offers you a present!
If all such stances are happening in your life, then congratulations! The girl is in love with you. Women like to invest all their efforts and time in a person she loves. She would buy all your favorites to get that quirky smile on your face.
Even your smallest joy moments are of special concern to her, and when she gifts you then she is making an attempt to keep happy the person she loves the most.
Asking for Support and Care through Childish Gestures
Women are emotionally strong personalities as compared to men. But when they are in love, they would pretend to be slightly childish. This is a way to ask for your support, care, and to have you around them always.
Childish or cute behavior is completely natural, especially like being excited, cuddling, or jumping with joy. This shows that the girl is comfortable with you and would prefer to be your life-long companion.
Investigates about Your Interests and Hobbies
When two persons are in love they would want to know everything about each other, especially the females.
From your likes, hobbies, interests, to what makes you feel sad, disinterests you or annoys you. They would want to inquire everything related to you and about you. If a female is showing lots of interest in your life and is at the same time concerned about your happiness, then undoubtedly she is madly in love with you.
Initiates a Conversation
Women don't like to start a conversation, especially when it is on a personal note. But if she is doing it with you then most probably she is interested in you.
This is a strong indication and one of the secretive ways for her to express her love for you.
Looks Happier When You Are Around
That girl feels happy when you are around!
She enjoys your company to the fullest!
She always inquires about you when you are not there!
Undoubtedly, she is deeply in love with you. She is genuinely positive and happy about you. So, don't leave it unnoticed.
Try to Fulfill All Your Needs
From your monetary to mental, emotionally to physical, if a woman is fulfilling all your needs then she is clearly expressing her love for you.
She Treats You Specially
If she is one of your friends in that big group and has suddenly started to treat you differently then she has developed feelings for you.
From responding to your messages, to planning outings with you, a girl doing this entire means that she is interested in you.
With all these ways, the girl is expressing her love for you. So, when a woman is being selfless and caring to you, then don't take her for granted. Man, she is deeply in love with you!