7 Common Reasons for Red Face That May Surprise You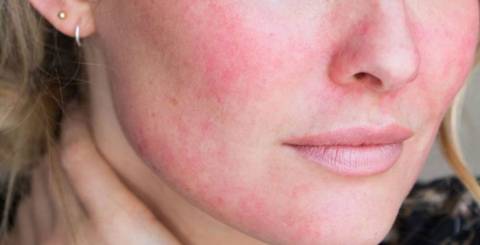 Everyone has had an occasional redness on the face, whether it's due to exercise or embarrassment. Red face typically occurs for obvious reasons. However, if that redness is persistent or tends to come and go, it might signal something more serious. 
There are lots of culprits of facial redness, but the underlying problem is inflammation. Let's look at the list of common reasons you experience facial redness:
1. Menopause 
If you're a woman around the age of 50 (or earlier or later, depending on your genetics and some conditions) your sudden flushing might be provoked by hormone fluctuations that stem from menopause. 
Hot flashes - a common menopause symptom - can also make your neck and face flushed. That flushing is provoked by an increased blood flow to those areas. 
2. Thyroid disease
Thyroid disease is due to overactivity or under-activity of the thyroid gland (the butterfly-shaped organ in the neck). So, inadequate levels of thyroid hormones can contribute to skin changes. 
Hyperthyroidism (overactive thyroid) can increase the blood flow and cause warmth and redness of the face. 
3. Contact dermatitis 
Contact dermatitis is what results from an allergic reaction and is accompanied by irritation and redness of the skin. It looks like rashes occur when the skin gets irritated or allergic to compounds in personal-care products or environmental exposures. Things like creams, makeup, and fragrances can cause contact dermatitis on your face. 
Akin allergy typically manifests itself with itching, redness, blisters, scaly skin, and bumps. Moreover, you may even develop this reaction after years of using a product containing the allergen. 
4. Perioral dermatitis 
Perioral dermatitis is accompanied by a red facial rash. That's why it's easy to mistake it for other skin conditions. Perioral dermatitis can look like rosacea, and they're treated similarly. It might also look like acne around the mouth, eyes, or nose. 
The root cause of perioral dermatitis is still unclear, but experts suggest that it could be a type of irritation or allergy that's related to an overuse of the over-the-counter steroid or hydrocortisone creams. 
5. Atopic dermatitis  
Atopic dermatitis, also known as eczema, is an itchy chronic skin condition that affects one in 10 Americans. Though it's more common in children, it can also be a lifelong issue that affects adults. 
Atopic dermatitis-induced inflammation stems from an innate dysfunction of the immune system that contributes to dry, red, itchy, and irritated skin. It can affect the face as well as any other area on the body. 
Eczema might be caused by a genetic factor. Flare-ups can be provoked by triggers from the environment like pollen or soap. To calm atopic dermatitis, hydrate your skin properly, avoid triggers, and use prescribed creams and ointments. If this doesn't help, your dermatologist may prescribe cortisone shots. 
6. Shingles 
Another reason for facial redness could be shingles. This is a condition that's caused by the reactivation of the virus, known as herpes zoster (the same virus that triggers chickenpox). It causes painful, red bumpy rash and often affects people with a weakened immune system. 
7. Rosacea 
Rosacea is an inflammatory skin condition that's characterized by various signs. The symptoms might include a ruddy complexion from fine, red pimples or bumps, broken capillaries concentrated in the T-zone, and dynamic flushing. Though scientists don't know what exactly contributes to rosacea, they suggest this might be due to environmental and genetic factors, or abnormal immune signals. 
With rosacea, your blood vessels get overreactive, and the skin is extremely irritable. Hormone changes, spicy foods, changes in emotions or temperature can provoke symptoms of rosacea.