7 Best Road Trips of India
Fresh air is something we all deserve and to get some we need to go out of our home and breathe out. Road trips are one of the best things we can do for ourselves. Road trips let us go out of our home and breathe. It may be with your loved one, your best friends, your family or alone. A road trip is something your mind. body and soul require every now and then.
I am listing down the best road trips that are available, easy and affordable in India. You must go through the list if you are already planning one.
1. National Highway No 21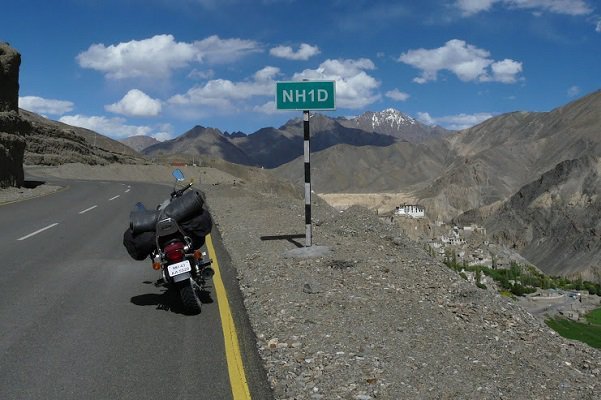 This highway runs from Sonbarsa (Bihar) to Chandwa (Jharkhand). This highway runs for around 400 Kilometers. This highway is must visit for you if you are a foodie. The special Dhabas and restaurants that come in the way while traveling from Bihar to Jharkhand will leave you mesmerized and make you fall in love with the Road. Also, the scenic beauty is very interesting on this way.
2. Leh-Srinagar Highway (NH 1D)
The Name of "LEH" is enough to give a spine chill for a while. Leh-Srinagar Highway runs between Leh to Srinagar. This highway runs for around 530 Kilometers. This is one of the most traveled road trips across India. If you decide to get into this highway, you need to brace yourself up. This highway will challenge you at every step. The road is steep and dramatically curved. You will find yourself in the trap of those curved paths every now and then. Also, you need to carry a lot of Clothes and food if you plan to travel in this way. Only Summer travel is preferable here. In winters, Mostly the route is closed due to landslides and heavy snow fall.
3. Puri to Konark
Unlimited greenery across the roads and tall standing trees will make you fall in love with this place. The trees stand across the road as if they were the soldiers standing in your way to greet and salute you as you behead towards your kingdom. This will fill your entire self with the feeling of royalty.
4. Mahabaleshwar
Mahabaleshwar is famous for its scenic beauty. Situated in the western ghats of Mumbai, this is a place you must drop yourself in if you are somewhere near Mumbai.blessed with several elevations, which are also known as the viewpoints, this place gives you the exact feeling of being into a real travel.
5. The Old Silk Route
The Old Silk Route extends through Sikkim. This is one of the most interesting road trips in India situated in the northeast area of the country.passing through this route you will be able to pass through Nathula, Menmecho, Kupup, Nathang, Lunthung, Zuluk, Padamchen, Mankhim, Sillery and Reshikhola. You will be able to see the whole Himachal Pradesh with a completely new angle in this road trip. The greenery and fresh air are already promised by the name of North-East
6. Rohtang Pass
Rohtang pass comes next in the list of unmatched road trips in India. The solid mountain rocks will you memorized on the way towards Manali. The best thing about this road trip is that you can always take the trip towards Manali and stay there for some good time. That doubles the pleasure. But Rohtang pass is not open for all the 12 months in a year. It is preferable to travel there only on the summers
7. The Mumbai- Pune highway
The Mumbai- Pune highway spreads from Mumbai to Pune. both the ways the route is very beautiful. The expressway will leave you stunned. The luxury you get to see from above of highway is something you should not miss. The street filled up of buildings and buildings around will leave you mesmerized and for a while, you will be lost in the beauty of a city. The Mumbai to Pune cab is easily available on rent .