6 Ways to Have a Beautiful Christmas at Home on a Budget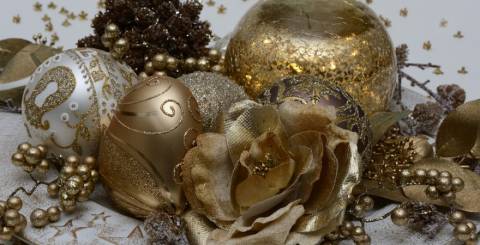 If you are wanting a beautiful Christmas at home, it does not have to cost a huge amount. We all dream of having the huge tree covered in beautiful decorations, a beautiful dining space and rooms with all the festive embellishments your heart desires. But the issue we can face with these types of niceties is the cost – however, with a little bit of imagination and some forward planning you can have your home feeling just as magical but will cost you significantly less money. From searching around for natural decorations to reimagining the traditional Christmas meal, there are a number of ways you can get your home feeling festive whilst on a tight budget.
Less is More
Your home doesn't have to look like it belongs in the North Pole for it to be festive and Christmassy, so rather than drowning each room in bargain decorations – try and take a more strategic approach to your décor. The idea is to try and invest in a small selection of really beautiful and high-quality decorations that can be displayed more creatively. For instance, why not thinking about wrapping a thin strip of tinsel around your window blinds and teaming it up with some authentic wooden stars that can hang off the window rail.
Transform Twigs into Decorations
A fantastic way to let nature flood into your home can be simply done by getting some twigs from your local park and transform them into Christmas decorations. The way you choose to form the twigs is completely up to you, you can create a long string of them to place along your window sill or you can make them into a little star. This can be really fun to do especially if you have young children that can have some fun with them. To then make this look extra special – you can bind the twigs together with a piece of string that has some lights taped to it, which will create some extra sparkle!
Tape up a Tree
If you have a blank wall space, a quick and trendy Christmas decoration can be made by creating a Christmas tree which is made out of colorful washi tape. This will create an element of color and freshness to your décor, and it will cost you hardly anything at all!
Scale Down
If you are wanting to bring the price down on your Christmas decorations this year, then a simple way to do this is by scaling down on the size of the decorations which are being used. We often spend lots of money on large, real trees which look great for that short period, but once it comes to January they end up in a wood-chipper. So the idea, in this case, is to get a singular spring which can be placed in a small vase and can then be decorated with small acorns or little candy canes.
Reuse Old Decorations
If some of your baubles are starting to look a little tired and worn out, they may no longer be able to be hung on your tree individually. Therefore, you would want to try and find new and innovative ways to use them rather than having to rush out and buy replacements. A great idea can be to either place them all into a large vase which can be placed on your window sill or another option can be to place 3 or 4 of them into pretty little cups and use them as mantel decorations. If you want to try and re-vamp them completely you can choose to spray-paint them in sparkly silver and they can then even be hung back up on your tree.
Re-think the Traditional Christmas Meal
Sometimes the traditional dinner can become too much and it can feel like it's the just the same old thing every year. When you are having to purchase a turkey every year with all the trimmings too it can cost a lot of money, so why not veer away from the traditional and cook a dish that you would really want to eat. You can switch it up and save yourself some money by making a casserole, risotto or even an unconventional turkey curry – which will keep both your bank manager and stomach satisfied.