4 Tips to Avoid Moving Hurdles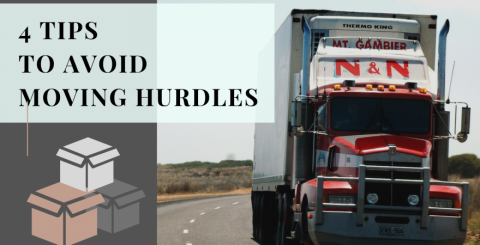 Moving is not a very pleasing task. Actually, it is one of the very stressing tasks to do aside from packing. It requires great organizing, intensive planning, and heavy lifting.
Are you planning to move or at the moment of planning on how you will move all your things to your new place?
Maybe you are one of those who is very problematic right now or is problematic for that matter. There are many unplanned situations that suddenly emerge that cause havoc to your moving experience.
To help you avoid this from happening, here is a brief guide on how you will avoid the moving hurdles that may come your way.
Moving Tips to Keep In Mind
1. Sometimes cheapskate doesn't help
There are many people that have been a victim of a moving scam. The moving company will tell you will get the lowest charge for their service especially if the moving company is from the bidding. And when you finally avail their service, they will show you the real price.
Don't be a victim, search thoroughly first about the moving company that you will go through. Make sure that they are licensed and have a motor carrier number.
If you are to choose a moving company, go for someone who already has a good reputation and gives you the best deal without sacrificing that quality of service.
2. Book in advance
There are times that moving to a new place can happen abruptly. But it is not always the case.
Generally, you plan it months before the moving becomes official. Do yourself a favor and make a reservation to your trusted moving company ahead of time. It will not hurt you or harm you if you do this.
As a matter of fact, it saves you from a lot of stress.
Why?
It is because there are times that your moving company might be fully booked and there are no available vehicles for you.
Aside from that, if you make a reservation in advance, you will just have to sit back and relax without stressing yourself of finding movers to be at your disposal on the exact moving day.
3. Be wary of potential uncertainties
Your local movers will come to take an inventory for your belongings and also to determine the amount of storage space necessary for transportation.
And they will ask if your furniture is included in the overall haul. If some of this furniture is not included because you plan to sell to a friend, your local movers will disregard it to the estimation of your move.
But if uncertain things happen and your friend suddenly opts-out in the buying process. Since that furniture is not included during the estimation, prepare yourself that your local movers might charge you for an additional fee.
So prepare yourself for these uncertainties. Unless you are pretty sure that those items will be gone, might as well add them to your inventory list.
It is much better to be safe than sorry, for it will also cost you otherwise.
4. Make your inventory list
It is very advisable to organize your things. So that your local movers will know where your things are should go once you've reached your new place.
You wouldn't want to ransack your boxes just to look for a spoon, right?
So to save you from a lot of stress, make an inventory list and itemized your things to where it should belong. Make a label for your moving boxes for easy unpacking.
Wrapping it up:
Moving to a new place is a very stressful task. You need to spend a lot of time and effort from the packing itself up to moving to your new place.
But despite the common perception that we mostly think it is. Packing for a move doesn't have to be a laborious process. It only needs proper planning and preparation. And so if you want you're moving to be smooth, you can ask the help of professional movers to help you do the job. They will help you take the hassle and backache of moving out.