What to Get the Groom on the Wedding Day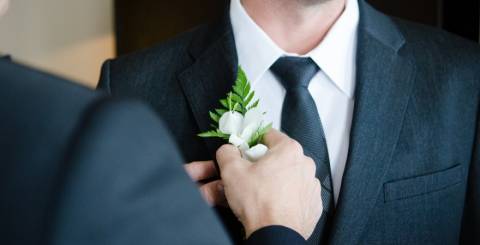 When it comes to getting a gift on the wedding day, it is usually the bride who is at the forefront of our thinking when it comes to the gift (and their certainly isn't anything wrong with that!). However, we sometimes forget to consider gifts that the groom will be able to enjoy too even though there are a wide variety of them that are actually a large number of them available.
Clothes for Him & Her
If you want a gift that can keep both the bride and the groom happy, then this is certainly one of the best choices. You don't have to go with the cheesy 'I'm with him' & 'I'm with her' t-shirts, but instead try considering something that will suit both of their interests. For example, if they are both into exercising you could get them matching running trainers. If you don't actually know what their personal interests are, then you can get them something they could still make use of in their home. For instance, the his and hers loungewear from BOY London or Criminal Damage can be great when they are spending a night in relaxing.
Tickets to Watch His Favourite Team Play
This is a gift that can be either just for the man on his own or it can be something the new couple can enjoy together if they are both fans of the same sporting team. One of the best thing about this type of gift is you know it won't be one of those that just be kept in a cupboard in their home or become part of a gift-cycle. Also, it ticks all the boxes with being meaningful, personal and most importantly: useable!
Watches
Weddings are often very traditional affairs, so a great way to keep with this theme is to choose a gift for the groom which is traditional too. One of the top traditional items in existence is a leather strapped watch, this has been a gift which has been popular for decades – and for good reason – it is something which oozes in class and tradition.
 
Hip Flask
Sticking with the traditional theme, another fantastic choice when wanting a classic gift for a groom can be to get a hip flask. There a few variations to the type of hip flask you can get, there is the common bronze outer case which is very popular but you can also go along the same path as the watch and go for a hip flask which has leather on the outer case. If you want to make sure the hip flask is something the groom will really appreciate and treasure, think about getting his favourite drink and giving it along with the flask.
A Personalised Drawing
One of the popular and common gifts at a wedding can be a photo frame that the newlyweds can used to place one of their wedding photos in. However, a lot of the time, the couple won't actually use this. So as a way to overcome this you can use the great alternative to hire a sketch artist who can draw a picture from a photograph of the couple –this is much more personal and creative than simply getting them a photo frame that won't really mean much. 
Cufflinks
Cufflinks are always a safe choice when you're wanting to get a man a gift. They can be considered another great traditional choice, but something which sets cufflinks apart from the other choices is the fact that they can actually be worn on the wedding day too. You can also make these more personal by engraving them with the wedding date.