What to Ask Portable Moving Container Companies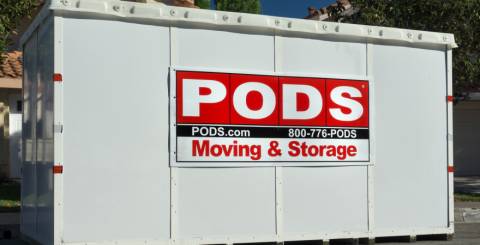 Purchased at Deposit Photos
Questions to Ask When Renting a Portable Moving Container
Moving home is an exciting time; there is no doubt about that. Though, that is before you start to think about packing all your belongings in boxes and loading them onto a truck. Which could take up way more time than you'd like it to, typically a whole day depending on how many belongings you need moving to your new residence.
Though, there is one solution to this problem that many homeowners are using to make sure that moving all of their items from one place to another takes up as little time as possible. And that solution is renting a POD.
There's no doubt you've seen at least one POD around your town; they're absolutely everywhere at this point as the self-storage industry as a whole is booming. But if you want to seriously consider moving with help from PODS (or a similar company), there are some questions that you should ask first so that you know what you're getting yourself into.
Such as: How their service works, how you are protected, and all the other questions you need an answer to when using a portable moving container company.
What is a moving container? (or a Pod)
If you've never used or heard of a moving container like this before, then let us briefly tell you a bit about them; Moving containers or pods are a cross between a storage unit and a commercial shipping container, almost like a small version of a tractor-trailers cargo space.
Who are the most well-known storage companies?
When renting a moving container it is wise to work with one of the more reputable storage companies. The following are industry leaders in the portable storage container business:
PODS
U-Pack
1-800-Pack-Rat
Smart Box Portable Storage
U-Box
How big are storage containers?
Storage containers can come in a range of sizes, depending on the portable moving container company you use, though PODs are usually 8 feet tall. There are other sizes of portable storage containers that you can get if need be.
Common sizes are 7 feet, 12 feet, and 16 feet. It goes without saying that you're going to need a bigger container depending on how much stuff you need to fit in it, so we advise asking the company what sizes they would recommend based on the number of items you need moving.
How long can you keep storage containers on your property?
You can keep storage containers like PODs on your property for as long as you need...as long as you're paying the fees associated with doing something like this. Since every company is different, we advise asking how long you can keep a storage container on your property beforehand; letting them know how long you plan to keep the storage unit will mean that you won't have to pay any additional fees in the future too.
Is the portable storage container weatherproof?
Some companies explicitly say that their containers are water-resistant rather than waterproof; if you've ever had the latest smartphone that claims to be water-resistant, you should know the difference between the two. If not, then ask the company to distinguish between the two, so you fully understand what you're paying for (and what can happen if there is torrential rain).
On top of this, you're also going to want to ask if the container is fireproof or fire-resistant too. Especially if you live in a climate that is prone to fires starting.
Is the portable storage facility climate controlled?
You might be surprised to learn that some storage companies don't actually pack their containers in a warehouse when you've got all your stuff in; instead, they might bundle them outside.
If you already know the containers are not waterproof (since you've just asked about it), then it's important to find out whether or not your storage container is going to be sat outside all day in the rain.
In some cases, you actually get a choice (with an additional fee, of course) to have your storage unit placed in a warehouse to protect it from the weather better. So, it's definitely worth asking how and where your container will be stored once all of your stuff is packed in it.
Can I have access to my portable storage container if the company has it?
PODs, for instance, require you to have an appointment booked to be able to go to your storage container. However, other portable moving container companies give you 24-hour access to their storage facility if you need to get something.
How to find a portable storage container company?
There are a few ways you can locate an excellent moving container company. First, ask friends, family, or a local real estate agent for their advice. They may have had experiences with using one themselves.
Real Estate agents are often involved with buyers and sellers regarding the moving process. They could have first-hand knowledge and useful feedback worth sharing. One of the ways a Realtor earns their commission is by giving sound advice. Doing an online search could also be helpful. Go to Google and search for portable moving container companies near me. You should find a few helpful results.
Would I be better off with a storage facility instead?
Many folks wonder if they would be better off renting from a storage facility rather than an onsite moving container. Usually, the biggest reason someone may want a portable moving container is to be able to access all of their things right from their current home.
If this isn't your objective, you may want to consider a storage facility instead, as it could be a cheaper option in many instances. If you decide to rent from a storage facility instead, make sure you ask lots of questions as well. Here are some of the best questions to ask before renting from a storage facility. No matter which option you choose, getting satisfactory answers to your questions should be paramount.
Final thoughts on renting a portable storage container.
When hiring any company in the moving industry, it is important to do your due diligence. Asking lots of questions is smart. It is easy to pick the wrong company, and you don't want to do that when it is such a large expense. Hopefully, you have found these questions for moving container companies to be useful.
Other Helpful Article Cube Moving Resources
What to ask before hiring a mover - moving is a significant expense when buying or selling a home. To ensure you hire the right moving company, it is essential to ask the right question. Use this resource to see the questions you should get satisfactory answers to. Put yourself in the best position to have a successful moving experience.