Tungsten Carbide, Cemented Carbide, and Carbide... What's the Difference?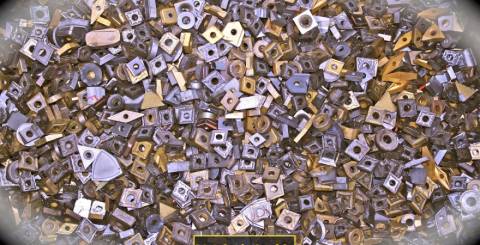 In regards to scrap metal, tungsten carbide is perhaps a scrapper's best friend: it is easy to find, and it yields a high return. But did you know that of the three commonly used terms that people refer to tungsten as, only one of them is correct? It's true. Let us explain.
Tungsten Carbide: Is an inorganic compound (WC),that is made up if equal parts tungsten and carbon atoms. Because of this, it is not "technically" a metal. Scientifically, the tungsten and carbon that comprise it make it a compound. Tungsten carbide is also very rarely used in its plain ceramic form. It is more dense than steel or titanium.
Tungsten Semi carbide: Made up of two-parts tungsten, (W2C).  A different name, but mostly the same product.
Cemented Carbide: When the term tungsten carbide is used, this is actually what you are thinking of. High speed tools use cemented carbide for machining because it can withstand higher temperatures, and generally produce a better and longer-lasting finish on the product it is working on. It is a metal matrix composite that actually contains 5-25% cobalt.  
Carbide or Tungsten: Simply calling it carbide is inaccurate, but accepted. In that, the world of carbide is so broad that referring to it simply as carbide isn't placing it in any specific category. Similarly, this rule applies to just calling it tungsten as well. Neither are specific enough, but they are still accepted terms.
The Magnet Test: An easy way to tell if you have a tungsten carbide on hand (and a little less dangerous than the spark test), is to use a magnet. A magnet will stick to all ferrous metals, including scrap carbide, cobalt, and nickel.
Tungsten carbide can be found in many products from all around the world (did you know that light bulb filament is made from tungsten? As well as ballpoint pens?). But not all recyclable tungsten is created equal. Can you imagine trying to get enough light bulb filament gathered together to recycle? Could take years!
Instead, here are some common forms that are much easier to compile and recycle:
- Inserts and drill bits: These are common for drills in the mining industry or in construction. Many companies that use drill inserts made from tungsten save them for recycling.
- Wear parts: Just as common as bits, ends, and picks, is tungsten being used as a wear part. That is, it is a machined part used in a specific place that sees a lot of wear and tear. It is, however, designed to not wear. The machine usually dies before the tungsten, so recycling the parts is a great idea.
- Knives: Someone finally figured out that turning tungsten into knives might be beneficial. Think about it, they never dull and are virtually indestructible. But people do throw them out sometimes, making them easy to recycle.
- Jewelry: As tungsten grows in popularity, so too does its application. Even if it's for personal adornment. Enter tungsten jewelry. They can range from rings, necklaces, and even earrings. A great way to get some return on a pricey item that may have broken or no longer carries any sentiment.
Many people who work a jewelry stores may point you in another direction other than tungsten rings because they may not be familiar with them, or they may not even have them in the store.  When you purchase tungsten jewelry, you can wear it doing your favorite activities, such as outdoor activities or water activities, and it will still have that high-quality shine
For more information on recycling your scrap tungsten carbide, please contact a professional.