The Trends in Contemporary Interior Design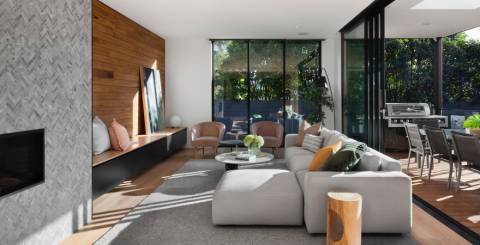 Interior Design is for everyone, thanks to social media. Everyone is active on Social Media, and they can explore what others are getting in their home and what is trendy. And according to that, they can modify their home. Even all kind of furniture and home décor has become very easy to find and modify. Today, we decided to design a blog that can help you fulfill all home interior cravings. Here, we have listed the latest trends and interior design ideas that will make your home look contemporary:
Bring on more Natural Material: Living in the big cities, we hardly come in contact with nature. And even if we do, it is more about pollution. So there is a way to bring nature into our home- make your own gardening craze by using natural material. You can play with stone, water, wood, seashells, plants, and anything else that reflects nature. Try to use natural fiber with a beautiful handmade design and texture.
Go Asymmetrical with Furniture: Don't let your home interior look boring by adding the same kind of furniture and being playful with whatever you choose. Non-matching furniture allows you to not stick to a theme. You can go for any color and design you want unless and until they complement each other perfectly. Don't feel shy and let your real self reflect through for interior design.
Try out Monochrome Walls: The best part about walls is that you can change their look at any time. Right now, to look trendy, try out monochrome walls. These are calming and allow you to add any kind of home décor to them. These will not look boring with time and create a symmetrical look. This will give you the freedom to be bold with other interior design ideas. The monochrome has started playing a vital role in our home designs and it makes your home look super elegant.
Light Wood: People are now more into light wood. They are soothing and casual and feel like we are on the beach. You can try this woody shade on the flooring or for furniture, depending on your requirements. The idea behind it is to encourage raw aesthetic and color that fits in every room and space.
Stay Playful with Home Décor: There is no need to stick to a theme with home décor. Bring on whatever you like. Stay cheerful and make your home look playful. Choose whatever complements your home design the most. You can get them in natural shades as they are quite trendy in today's time. Don't go wrong with lighting fixtures and mirror, as will enhance the overall charm. Try incorporating the pieces you admire and you can never go wrong with that. Stay playful in your home design ideas it adds value to your home and reflects your true personality to others as well. Experimenting never goes wrong once you do it with all research and proper understanding.
Sustainable Design: People understand the importance of sustainable living and want to take initiative to save the environment. That's why Sustainable Designs are also very trendy. You can also go for it brings reusable, bio-plastic, and recyclable material. Avoid making waste in any sense and improve the quality of your life. With professional help, you can make your home design entirely sustainable.
Home Interior should look elegant, trendy, and natural in 2021. It should include all right elements that fit well in today's needs. To get the right guidance, you can even contact the interior design solution provider as he is a professional and have proper knowledge about trends, contemporariness, and home requirements.