Travel and Dine at These Popular Areas in Bangkok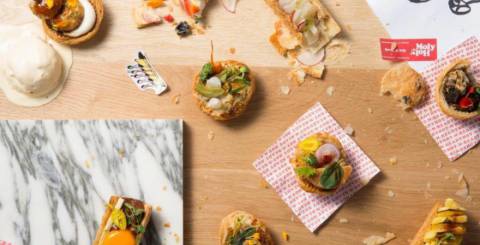 Bangkok is maintaining its reputation of being one of the cheapest and the hottest travel destination in Southeast Asia. Apart from vibrant nightlife and fabulous attractions, the city is prominent for its tempting food culture. Exhilarating destinations along with delicious Thai food make your traveling in Bangkok an experience which is worth remembering.
According to a recent report, Bangkok attracts 40 - 45 million tourists every year which explains there is something crazy about this destination.
So, if you're reading this article, you will be able to explore the famous food and restaurants from the well-known places in Bangkok. We have also included the award-winning restaurants like Gaggan and Nahm which are listed in "Top 50 Restaurants in the World" and Bangkok restaurant magazine repeatedly.
Sukhumvit Road:
Popularly known as the longest road in Bangkok, Thailand where various modern cafes and fashionable restaurantsare located. Trendy bars along with affordable luxury hotels give the area an exciting cosmopolitan flavor. If you are at this location, then you should really walk into the food court of Terminal 21 shopping mall. There area number of stalls which offermouth-watering cuisinelike Thai, Chinese, Indian, Hainanese, vegetarian, halal, spicy papaya salad, with tempting rice noodles, spicy hot soup,and delicious fish balls, along with fresh fruit juices.
Khao San Road:
Surprisingly, you don't have to walk too much to find delightful food on or around Khao San Road as per the local expert from Bangkok. You should really visit this place as the benefit is truly yours. The place is packed with various restaurants, affordable guesthouses and mid-range hotels, internet cafes, massage parlors, bars, bookstores, a huge market with various stalls, tattoo shops and much more. The street is also filled with street vendors who selldelicious spring rolls and pad Thai at the cheapest prices in the city. There are pizza parlors, hamburger joints which adds a littleflavor to your brisk walking. Also, what makes it more exciting is an exotic Israeli restaurant for those who can't make it through Asia without anauthentic hummus and a falafel fix!
Silom and Sathorn
Perhaps many of you don't know this that Sathorn and Silom are like a home to some of City's best dining. There are many exotic bars, cozy cafes and modern restaurants located in these areas. Walk in at the rooftop restaurants like Saffron in the Banyan Tree, Park Society in the So Sofiteland the award-winning restaurant Nahm. Supanniga Eating Room and Il Bolognese make some of Bangkok's amazing pizzas and pasta.
Chinatown
Bangkok's Chinatown is known as the largest Chinatown on this planet. There are many Chinatowns in different countries but none compares to Bangkok's. Food here isbeyond delicious. One of the amazing seafood of all timesis available in Bangkok's Chinatown. Head towards the well-known Yaowarat Road in the evening to find some delectable eats in the city. The best thing about the crowd is that it directs you to the best one. Just follow the crowd if you're new to the city. You will see Fai-Kaew Yao Wa-Rat is one of the famous seafood stalls that draw Bangkok's biggest crowds. There are various other dishes to choose such as stir-fried crab and sour shrimp. According to locals, Chinatown is also famous for its desserts. You will regret if you will leave Bangkok without trying the best-rated desserts like sesame dumplings with ginger tea, and the bread rolls packed full along with chocolate. These incredible warm rolls are grilled to the perfection before being filled with your choice of chocolate filling.
Riverside
Bangkok's riverside is famously known as the magical city with fallen and rising Kingdoms. The most fascinating areas of Bangkok reflect a constantly changing scene day and night. You'll be able to find Bangkok's finest cafes and restaurants nearby. It's certainly one of the most atmospheric neighborhoods in Bangkok. Lebua Skybar at Lebua State Tower, one of the top 10 restaurants in Bangkok, will be a thrilling experience of dramatic lighting effects, glass and steel décor, and what claims to be the best rooftop river views in the city. The good vibes can be extended by taking dinner at Lebua's rooftop al fresco restaurant, Sirocco.
The city pampers you enough with its exciting locations to enjoy everything which comes your way and also where you can eat, drink, stay, and have the lifetime of fun for far less than you would do in other European or cosmopolitan cities. Bangkok remains the favorite destination to travel as it has something special for every age group. You will experience the best food and for sure the most exciting place in Asia.