Top Reasons Why Your Project Needs a Certified Magento Developer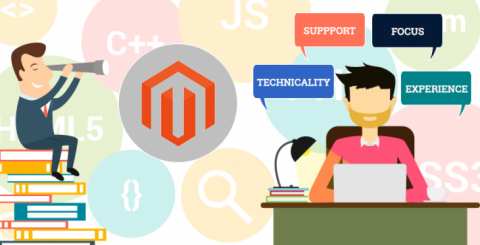 If you own an e-commerce business or even have been even remotely involved with one, you'd know that Magento is the preferred name when it comes to frameworks for developing a digital store. You know why is that? Because Magento has long proven its mettle as the ideal framework for e-commerce companies with a large business. And not just that, this particular framework is also famous for delivering superior levels of security for the store, in addition to making it highly scalable and ensuring that it is powerfully built. However, these are only a handful of reasons that drives Magento's popularity as a top-of-the-line e-commerce development framework.
Now, to fully leverage the myriad features of this open-source platform, it is imperative that you have assistance from experienced professionals who can ensure that the e-commerce development project not only stays on course but also delivers precisely the product you are looking for. While you are bound to come across developers and e-commerce development companies that promise you a perfect product, there's a good chance that you will be left with a less than a satisfactory project. 
It is why, when you are about to start your e-commerce development project, you should always hire a certified Magento developer because only a professional can deliver a competitive solution that will help grow your e-commerce business. For your convenience, here are some other important reasons why you should always only hire certified Magento developers.
1. Aptitude: Developers must not only suitably demonstrate their productivity and skills but also fulfill many eligibility criteria and pass tests to be approved. As a result, you can rest assured that the developer you hire will have all the skills and qualities requisite for developing a robust solution.
2. Practical knowledge: Certified developer bring an exclusive and high-quality experience to the table since they have spent a considerable amount of time acquiring their certification from Magento. It, in turn, benefits the company since such developers have the skill to fulfill all types of challenges and adequately serve your business' needs.
3. Technical support: One of the most significant benefits of hiring a certified resource is that the support they provide doesn't end when the development project does. You can rely on them to provide all forms of continued assistance and support since the process of getting certified also involves establishing their ability to deliver competent post-development services as well. Cutting a long story short, a certified Magento developer is the best way to ensure you receive reliable technical support long after the development work has ended.
4. Exclusive staff and assets: When you work with a certified Magento developer or development company, you get access to dedicated team and programmers. Their ability to deliver consummate work is further fortified by comprehensive support and well-endowed facilities, thus allowing you to circumvent the hassle of confusion and issues that are bound to arise with the involvement of inexperienced developers. In addition to that, they are also sure to make use of only substantiated methods and deliver an environment that matches your requirements as well as your expectations.
5. Timely delivery: Much like everything else on this list, punctuality and timely delivery of the project is also crucial for an e-commerce business. Any delays can not only be generally frustrating but also cause the company to lose out on precious business to their competition. It is a recipe for disaster, especially when you think of just how cut-throat the market today is. However, with a certified Magento developer, you get not only quality work, but also one that is delivered on time.
All the reasons listed above make a compelling case for why you should hire a certified Magento developer, don't they? You get a high-quality product, ample support, dedicated resources -- and all of that within the timeline you set for the project.