Top 8 Reasons Why You Should Have A Wooden Exterior Front Door at Your House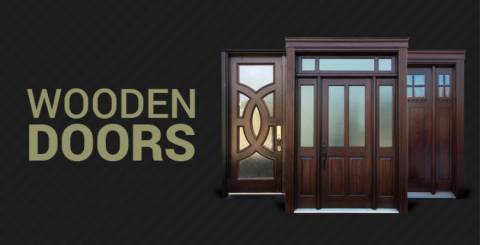 https://www.firstimpressionwoodmasters.com/
The exterior front door is considered to be one of the most important components of any house. It serves as providing the first impression of your home that you want to give to your guests, family members, neighbors, and other visitors. Different people prefer to have their main door in various kinds of materials like steel, fiberglass, unplasticized polyvinyl chloride (UPVC), and wood.
All of these door kinds have their benefits and drawbacks. The steel comes with high tensile strength and security but gets rusted over time and lacks in customization options. The fiberglass gives you increased visibility but less protection. The UPVC is cheaper than the rest but it releases dioxin and chlorine into the air which is harmful to health.
Out of all the available options for your next external front door, wooden material gives the most optimum performance. The majority of the people choose the best door makers like this premium door making company to make wooden doors because the wood looks very pleasing and gives a more natural look to their house. But that's not just it, a wood-based front door has a lot of qualities than just looking good.
The following are the top 8 reasons why you should have a wooden exterior front door at your home:
Style
Wooden doors are well-known for making the statement with their available colors, style, and stunning looks. There are expert craftsmen in town who can turn large wooden pieces into elegant and unique door designs that will suit your house. Extra elements like metallic pieces and glass panels could also be added to your wooden door to enhance its sophistication.
Feel
There are not many kinds of doors out there which can give you the feelings of security and comfort. Your wooden door gives the much-needed solid feel at the front of your home. You could also feel the quality of texture, luxury, and warmth by having an exterior front door made of wood.
Cost
Although wooden doors come in the category of the luxury doors but given its benefits, it serves as cost-effective in the long-run. You may not have to change your door at all in the near future if you buy the right quality wooden front door. In this way, you won't have to spend on repairs and replacements of your timber main door as they are mainly tough and long-lasting.
Durability
There's a reason why wooden doors have been in use in houses and other buildings for thousands of years. Most of the people build their entry doors from wood because of its durability. Wood is not affected easily by tough weather conditions. Some of the finest quality wooden exterior doors last for decades.
Insulation
The wood-based front entrance door will help reduce your energy bills by insulating the inside of your house from harsh external temperatures. Apart from that, wood is also a good insulator of the sound and assists in keeping the noises in your neighborhood from entering your home.
Customization
The highly skilled doormakers love to make wooden doors as it allows them to showcase their expertise and craftsmanship. The wooden pieces can be made into custom doors for your house just the way you want them to be. Apart from various design options, these doors can also be repainted whenever you want. So, if you want to change the appearance of your home from the outside, you can always adjust the color of your wooden external door.
Low Maintenance
As discussed earlier, wood is one of the most durable materials out there. Doors made out of timber can last decades without wear and tear. It means that you don't have to worry about spending a lot on repairs and fixes to your wooden main door as it requires very low maintenance.
Environment-Friendly
Doors made of sustainable and good quality timber are also environment-friendly. Unlike other materials like UPVC, wood-based entry doors don't harm the nature or inhabitants of the house.
Making the right decision about the main door of your home is very crucial as it gives an idea about the rest of the house in general. The wooden doors outlast other available options due to their great aesthetics, durability, insulation, low maintenance, and other benefits.