Secrets to Grow Your Ecommerce Business with Mobile App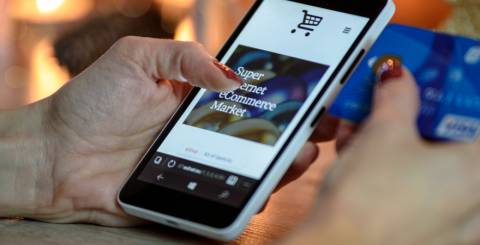 Are you managing a business in an e-commerce sector?
Do you find it hard to get the prospect's attention on your spectacular website and to make them stay longer and take a specific action?
You might be spending a lot of time, money, and efforts on search engine optimization and social media agencies to make your target audience aware that you EXIST!
Big Question: Wondering how to get loyal consumers, gain popularity, increase sales, and fasten your sales operations?
Ok, now enough of brainstorming! We'll ensure to address all your concerns in this article. So, keep on reading till the end to discover the secrets to grow your e-Commerce business.
Mobile Apps are Revolutionizing the E-commerce Industry
In the era when the entire world is heading toward digitization, mobile apps have gained immense momentum. According to Statista – a global business data platform, mobile e-commerce sales are expected to account for 53.9% of total e-commerce sales, and revenue is expected to reach $3.56 billion by the year 2021.
It indicates that the majority of the prospects and customers browse your eCommerce site through their mobile-based platform. 
Let's go through the benefits of mobile apps to understand why you should rely on an app for your eCommerce business.
More Convenient
Users can easily download or install Mobile apps from the Playstore (Android Phones) or App Store (iOS Phones). Dedicated mobile apps for eCommerce business is user-friendly and accessible, which makes it convenient for the customers to shop anywhere and at any time, as compared to a mobile web browser and on a desktop browser. Moreover, it removes the hassle to the input user ID and login credentials every time to gain access.
Brand Visibility
Mobile apps help increase customer engagement and develop a secure connection. You can also include social media platforms in your app and let the customers review about your services or products. It will ultimately result in high traffic and draw the attention of potential customers. Thus, it is one of the swiftest ways to promote sales and conversions.
Quicker Response
Mobile apps load faster, and users do not have to go through the strenuous process of opening a web browser, enter a URL, and keep waiting for the page to load fully. Moreover, it removes the hassle to insert user ID and login credentials every time to gain access.
Highly Secured
Security is one of the primary concerns for consumers while buying products online. Most of the websites include a lengthy checkout process, and sometimes the transactions get failed. Mobile apps always keep the user's data in the first place. It provides consumers with multi-layer security features that involve third-party apps integration with payment options such as Google Pay, PayPal, Paytm, BHIM, Net Banking, Debit Cards, Credit Cards, and other e-wallet apps, and other e-wallets to make the transactions highly secured. Once the payment details are filled in, it makes checkouts faster and aids in building customer trust.
Generate Repeat Business
A company's sustainability in the market depends on customer loyalty and retention. Providing rewards and discount offers helps influence customers for more purchases.
Personalization
Nowadays, customers prefer getting products, services, and offers of their interest right in front of their eyes instead of scanning the entire website. When a consumer creates a profile on mobile apps, businesses gain access to the data that can be taken into consideration to deliver customized recommendations. Mobile apps work on consumer behavior.
Intuitive Design increases Conversion Rate
Intuitive and elegant UX/UI designs make your mobile apps more interactive and engaging to enhance customer experience. Hence, a user-friendly experience can make the potential consumers stay for a long time, and that increases their chance to shop more and increase conversion rates.
So, after knowing the above facts, it is needless to say that building your mobile app for eCommerce business is an excellent start to maintain an interactive relationship with your customer base. It also creates an immersive brand experience. If you wish to maximize revenues of your Ecommerce business by increasing sales, get in touch with leading eCommerce app development services providing company to start developing a mobile app for your business.