Room Design for a New Apartment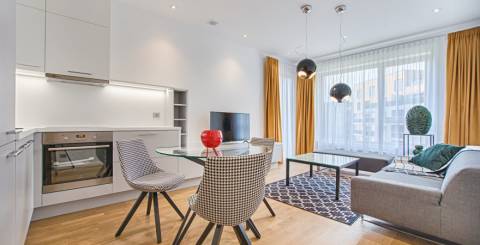 https://www.pexels.com/photo/two-chairs-with-glass-table-on-living-room-near-window-1571453/
Decorating your rooms in your new apartment is one of the most exciting things. It is just like a blank canvas with which you can play in the way you like. But it becomes quite essential to stay aligned with the idea from the beginning to make your new apartment look like your dream home. So what all can you do here? The answer is simple; you simply have to set a budget, prioritize your room, follow a theme, and start working on it. Don't forget to work on one room design at a time to avoid any kind of clutter. To motivate you to design perfect rooms in your new apartment, we have come out with some interior designing ideas. Check them out and stay motivated!
Apartment Designing for Bedroom:
The bedroom is the sanctuary for the entire apartment, and it should be uncluttered, inviting, restful, and peaceful. And whenever you are buying the bedroom furniture, make sure to never get the entire set, but get different individual pieces and align them together to ensure the abstract and beautiful effect. Add Mattress, Headboard, Nightstand, side table, and closet to your shopping list. Also, never forget to add the right home décor to make your bedroom more personalize. Understanding your style is very important and you can understand it by bringing some of the amazing apartments' interior design ideas to your notice. You can browse through different ideas on the internet too.
Apartment Designing for Dining Room:
There are a few essentials to Dining Room: A dining table with appropriate chairs and the right table décor and accessories. You should invest in it as per your family's needs. You can even add the home décor related to gathering time and eating time in this room. A table with the right table runner or maps would also work appropriately for you. Shopping for furniture can be a big task and to this, we must bring the changes by thinking about the functionality and the other factors. Some part of your dining area can be used as the study corner too. You can bring home the lights which are proper and give your dining space a whole new look. 
Apartment Designing for Living Room:
Every person wants to use their Living Room differently. So, what are your requirements? Do you want to make it more personalized or welcoming? It totally depends on your willingness. Just make sure that your living room is fulfilling the requirements of every family member. You should also focus on Home interiors and get a sofa, coffee table, wall art, platform home décor, TV cabinet, and shelf for it. Invest in devices that actually fulfill your family's needs. We would suggest you add to your family's photos, awards, and other achievements to make it look more personal.
Apartment Designing for Bathroom and Kitchen:
Your kitchen and bathroom also require the right amount of attention. You should design it as per your family's requirements and your personal choice. Make sure to make them appropriately accessorized to make them more utilizable. Focusing on every detailing of these homerooms will enhance your new apartment.
Every home design is different, and we suggest homeowners decorate it in a way that looks personal. Focus on every corner of the home, either be entryway or guest room, by getting the essentials first to avoid last-minute blunders. And if you want expert support with designing your new apartment, then schedule a free interior design consultation with Discern Living Expert. We hope this blog has given you the idea of how to design each room of your new apartment appropriately.