Plumbing Nightmares: I Found 5 Incredible Ways to Avoid It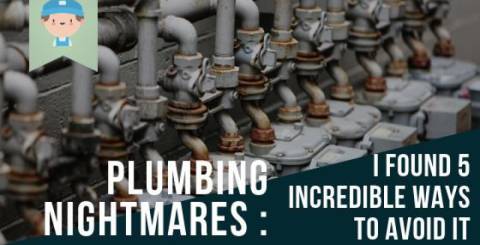 Plumbing system plays an important role in the distribution and use of potable water and the removal of waterborne wastes in our home and any building.
But the thing is the plumbing system and heating system are the two vital components of a home that many of you took for granted to take care of.
Most of the time, you don't care how your home plumbing system works. What you only know is turn on a tap, right?
Plumbing
When in reality, the plumbing system is an art and science of creating and maintaining the sanitary conditions of any building and houses. It is a complex network of water supply pipes, drainpipes, vent pipes, and more.
And if you take for granted to maintain your plumbing, then there are few things more frightening than what you thought of.
If you think that the worst that might happen if your plumbing fails is discovering that your floor becoming a morass of raw sewage then you are wrong.
Common Plumbing Problems:
There is a slow and gradual leak coming out of the pipes.
Your water bills are increasing.
There is a persistent running water sound in your toiler.
Your sink and shower drain very slowly.
You're experiencing low water pressure.
When you are running your dishwater, the water slowly backing up in the sink.
Your pipe from the house to the tank is clogged.
There is a bad smell around your septic tank or drain field.
If you think this is a small problem, then think again. It can turn out to be a nightmare if the problem is left unaddressed. To help you avoid this, we listed some tips to avoid this nightmare from happening.
5 Ways to Avoid Future Plumbing Problem
1. Use high-quality pipes and fixtures
There is nothing wrong if you become materialistic in choosing your pipes and fixtures. The life expectancy of these materials depends on its type and maintenance that you give.
The life expectancy of pipes (with proper maintenance)
PVC Drain Line - 25-40 years
Copper Supply Pipe - 70-80 years
Brass and Cast Iron - a century or longer
2. Be watchful for the brown stuff
Have you notice an unattractively brown or yellow color in your tub or sink basin?
If yes, then there must be rust in your pipelines.
The water that you are drinking and used in the cooking might have rust and can harm the health of your family. If this happens, then you better consider replacing your affected pipelines as soon as possible.
3. Be on the lookout for leak and corrosion
Aside from rust, you should be watchful for leaks and signs of corrosion. The discoloration and dimpling only indicate that your plumbing system is not in good shape.
And if ever you notice any flaking and stains, it is a strong indicator that your pipelines are imminent to failure.
In addition, the leaks in one area can be a sign that there might be a leak in any other place as well.
And the best thing to do to avoid this from happening is to have your pipelines inspect, repair, or replace.
4. Watch for any unexpected increase on your water bill
If there is an unexpected change in your water bills, then this can be a sign that there might be a leak in your pipeline. There might be a serious plumbing leak that you need to pay attention to.
5. Regularly snake the water lines
You can avoid plumbing problems before it begins. Regular maintenance and snaking the lines can save you from future clogging and drainage issues. You can do a monthly snaking on all your drains to make sure that there is nothing building up on your pipelines.
If you are a busy person and don't have time to do so, you can hire a plumbing professional to the job for you.
Remember that it is important to have an efficient flow of water coming in and out of your home.