MEORCA: An Alternative Way to a Web Search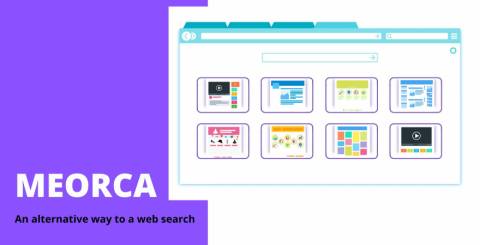 With the availability of the internet nowadays, a lot of people make a web search to find a solution. Search engine helps them find help online whether it is about news, blog, do-it-yourself articles, images, or videos.
Admit it, you are one of those people who are now become independent on a search engine to get the answer for their everyday question. But sometimes searching the internet can also get frustrating. You may come up with a stack of unnecessary data just because you enter a word or phrase.
Well, you don't have to be disappointed all the time, what you need is the ability to refine your web search to get exactly the appropriate search result that you want. Here are the tips that you can take to pinpoint the exact/relevant information online.
Diversify your search engine based on your web search needs
How many search engines are you aware that exist? Maybe it is just 2-3 right? Surprise! Surprise! Did you know that there is a 140+ search engine available online? It is not just Google, Bing, or Yahoo. There is various search engine that performs and specializes in different ways. Here are some of the list:
Google - the best search engine as well as the most popular products from Google.
Bing - a default search engine in a Microsoft web browser and a great platform for business to submit their details to optimize their search results. It has more extensive autocomplete results.
Yahoo - one of the top web search engines alongside Bing. It has a wider range of services that includes news and shopping.
Baidu - the most used search engine in China that delivers results for websites, audio files, images, maps, news, as well as cloud storage.
AOL - one of the top search engines that also offers AOL mail, AOL advertising, and AOL Platform
Ask.com - This search engine gives results based on a simple question and answers web format.
DuckDuckGo - a search engine known for protecting the privacy of the users.
Wolfram Alpha - it is a computational knowledge search engine that gives results are based on facts & data about that query.
Lycos - a search engine that served key areas like email, web hosting, social networking, and entertainment websites.
Facebook Search - if you want to see a particular search across different areas - Facebook advance search can help you see results within people, pages, places, groups, and more.
Meorca - the independent UK focused search engine that always returns unbiased safe search results because it doesn't index pornography or illegal content websites. It is a crawler-based search engine with its index of web pages and does not index illegal content while providing safe, unique, and unbiased search results. If you want to search the web within the UK, Meorca is an alternative web search engine that delivers its index of a web page with a strong focus on UK websites. Rest assured that it will always return unbiased safe search results for news, blog, directory, images, videos, and advertising. Meorca is an independent search engine that does not index pornography or any illegal content websites. So you don't have to worry when your child uses the internet to search online when using meorca.com
Search the web using specific keywords
The search engine is not at all perfect, they also have their different blind spots. And using keywords in your web search queries helps search engines track down the relevant information that you want. A lot of web search engine offers advance search to narrow down your query. Refining your search query by including specific keywords can help you get a more concise range of results.
As much as possible simplify your web search terms
The simpler the search term that you use, the more concise and specific search results that you will get. A lot of search engine ignored stopping words to save up disk space as well as to speed up your search results. So try to avoid using specific prepositional words, articles, and conjunction words.
Besides avoid using plural verb forms that have suffixes with (-s, -ing, and -ed). This will help you improve the quality of your search results by searching in singular words and simple terms.
Use quotation marks and operators to narrow down your web search
You can use quotation marks to enclose a search term to narrow down your searches to a particular word or phrase. This will ensure that you will only get results for that web search terms.
Operator * can be used for wildcard searches. This can be helpful if you don't know the full term of your search.
The operator OR enables you to search for two or more terms simultaneously. This will give you results of either the terms are used.
Operator AND is the opposite of the OR. This ensures that you will receive only search results that include two or more terms. 
If you want to search a specific term within a site, you can use the query "site:mysite.com "your term". This will limit your search the term to a specific site only.