Know the 9 Fluid-like Responsive Web Design Frameworks .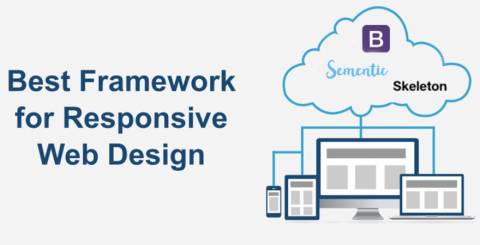 https://s3.amazonaws.com/uploads.hipchat.com/254582/3882131/TcYIY5ZMsH1YWCG/framework%20blog.jpg
Responsive website designs are adaptive to portable devices such as mobile phones, tablets etc.,along with desktop devices. They provide fluid-like flexible grids and designs which are scalable to fit any screen size and orientation. The launch of frameworks concept has put an end to the necessity to write the code from the scratch. Frameworks offer a simplified way to web designers with built-in functionalities and methods to reuse the code without redoing from the beginning.
HTML5 , CSS and JS documents are included in frameworks to create exceptional website design and development responsive applications. Frameworks are classified into front-end and back-end.
Few Popular Frameworks
Semantic UI : Semantic UI can be integrated in other frameworks easily and it allows the use of third-party tools. It is one of the popular front-end frameworks for responsive websites. The extremely feature-rich options of this framework include: sophisticated modules, forms, breadcrumbs, buttons, pop-ups, drop-downs, and sticky bones.
Bootstrap : The latest version of this most popular framework is Bootstrap 3 version. Some of the unmatched features are: it can build websites with less technical knowledge, a structured grid format, seamless navigation integration and create fixed and fluid width layout. A website designed by bootstrap is easily adaptable to mobile devices. An ideal website design and development company chooses Bootstrap to design adaptable resolution and content display mechanisms.
Skeleton : A small responsive website design framework used in rapid web development of web design regardless of their sizes. Skeleton uses 960 grid base for developing websites for all communication portable devices like mobile, tablets etc., Some of the UI elements include: well-organized file structure, forms buttons and tabs.
Foundation 3 : Foundation 3 is an advanced front-end framework built with a powerful CSS pre-processor Saas and allows you to customize with new tools. It is the easiest framework to learn and can be seamlessly used by a new user to create exceptional websites. This framework consists of components and an exclusive set of plug-ins where web designers can choose one.
Montage : It is an HTML framework, it is a great tool for developing modern web applications. The set of elements in Montage can help to build scalable and feature-rich websites. One great advantage of Montage is to have reusable components with HTML templates.
Pure : Pure can be used in any kind of web-based projects. It provides a small set of CSS modules which help developers to create various styles to develop the best responsive website designs.
Siimple : Siimple has a minimal CSS framework to create flat and clean web pages. It is a front-end framework with flexible and concise CSS framework to create user-friendly websites. Being to have minimal lines of code, it can be zipped down to 6KB in overall total size. Web designing newbies can experiment freely with this framework to start their career with.
Cascade : The grid layout offered by Cascade are both semantic and non-semantic with table designs and navigational templates. Many designers find it to be an easy framework because of its universal approach. Cascade can create high-performance webpages for cross-platform browsers.
Gumby : Gumby's list of remarkable features include: well defined UI kit, switches, toggles and flexible grids to create user-centric websites.
Factors to follow while choosing a framework:
Easy to use and understand.
Seamless integration with database.
Long-term support
Browser compatibility
Clean and precise code.
Conclusion:
Scale-up the screen resolution and content adjustment of your websites with the help of the best available responsive framework designs. The frameworks which are listed above are perfectly used to design beautiful websites. Choose an ideal web design and development company for your professional websites.