It Is Easy to Start Repair, But It Is Hard to Stop It: How to Change the Interior Without Repair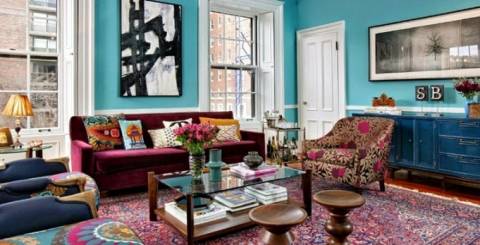 If you are not yet ready for large-scale transformations in the apartment, but familiar interior scene bothered and your long for novelty, use a few simple tips to update the interior, which will help to transform your dwelling without excessive costs.
1. Before you change anything in your environment, clear your field of operation. Walk through the apartment and take a critical view of the stuff, from small trinkets and clothing to large pieces of furniture. Do you really need all of them? Maybe some of them are outdated, lost their appearance, and it is time to part with them?
As soon as you get rid of the old and non-functional items, you will breathe easier in the apartment. In addition, you will get a place to implement new ideas.
2. Change your curtains. Window design has a great influence on the mood in the room, so, the room can be transformed by a simple change of curtains. Depending on the texture of fabrics, color choice and style of curtains, the room can be made more elegant, bright, energetic or, on the contrary, you can create a relaxing atmosphere.
Unusual accessories for curtains, for example, pickups made in the form of flowers or children's toys, suspensions of colored beads, of hearts, improvised embroidered ribbons and even leather straps can become an attention grabber in window decoration. The main thing is to keep a sense of proportion and follow the general style of the room.
3. Textiles offer many opportunities for interior updating. Changing the covers on furniture and cushions, applying a new bedspread, you can quickly and easily change the look of the room.
Handmade fans should pay particular attention to sofa cushions. Patterns of vibrant colors, decorative cushion covers made in the quilting technique, cushions embroidered in Oriental style and other items help to create new accents in the interior.
The replacement of floor coverings is fraught with difficulties, but you can put a bright carpet on the floor in the living room or bedroom. It is an easy task. Like curtains or cushions, it also helps to set the mood in the interior.
4. Lighting, as it is known, has a significant impact on the perception of the interior. It is not necessary to change the main chandelier in the room (although it can be helpful as well), but you can add light, hanging sconces on the wall, setting one or two desk lamps or a large floor lamp, accentuating certain elements, for example, in order to highlight a shelf with mementos.
5. Paintings, posters, murals, family photos, as well as vases, figurines and other accessories will decorate the interior, create bright accent in the decoration of rooms and vary the familiar environment. You can use new things, but sometimes it is enough to move and hang the existing picture or rearranged a vase, so they are again in the spotlight.
Interesting interior stickers will help to create a new image or just add a touch of humor in everyday life.
6. No doubt, changing around can provoke a little "housewarming party". When habitual objects change their location, it creates the effect of novelty. However, these changes, like any other, must be for good, so it is important to consider the functional arrangement of furniture, carefully measure the room, draw up a clear plan before its embarking.
7. Have you decided to go further than replacing the décor or rearrangement of bedroom furniture? It is possible to refurbish the finish without ambitious renovations.
Repaint of walls is an effective way. This will require some effort, but when minor scrapes and scratches disappear under layers of paint, the room will gain a fresh, updated look. Besides, it will change completely the impression of interior: you seem to get into another house. At least, "refurbishment" can be limited by one wall, for example, you can paint it in color of your favorite carpet, creating new color accents.
The similar technique is also applied with wallpaper. If you don`t want to change wallpaper in all rooms, you can buy 1-2 rolls and change wallpaper only on one stretch of the wall. Just don't forget: to have a success, it is necessary to pick up such a color and pattern that will blend in with other furniture.
Finally, you can repaint the mirror frame or legs of your dining table and stools, decorate with decoupage or paint an old chest of drawers, change the upholstery of sofas and armchairs, replace handles on doors of a closet, etc. Your imagination can tell you what other changes are required to create a cozy, bright interior; and good taste will help you to move in the right direction.